Paul Mansfield Sott.net 22 kwietnia 2017 19:00 UTC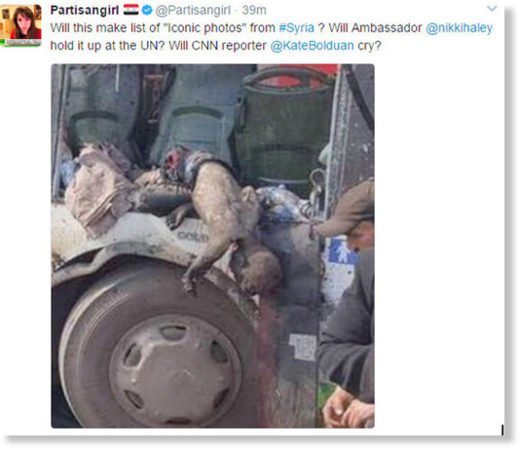 Komentarz Pracowni: To, co zarzuca się w tym artykule BBC, w równym stopniu odnosi się polskich mediów – przede wszystkim mainstreamowych, ale nie tylko – z kilkoma chlubnymi wyjątkami wśród tych drugich (może jest ich jeszcze parę*).
BBC naprawdę przeszło samo siebie w fałszywym dziennikarstwie, publikując [17 kwietnia] swój haniebny artykuł z okazji straszliwej śmierci 126 osób, w tym 68 dzieci, w autobusach zabierających ludzi z zajętych przez wspieranych przez USA dżihadystów miast Fua i Kefraja w Syrii.
Przede wszystkim trzeba powiedzieć, że BBC w powyższym artykule w żaden sposób nie wspomina o terroryzmie. Nie używa nawet słów "terrorysta" czy "terroryzm" – ani razu. Podaje się nam jedynie "atak bombowy", "atak" lub "atak na autobusy". Wszyscy powinniśmy się słusznie oburzyć, że niewinne cywilne ofiary tego potwornego aktu nie zasługują nawet na miano ofiar terroryzmu.
Artykuł nie komentuje horroru cierpienia dzieci, które stanowiły ponad 50% ofiar śmiertelnych. Poza informacją o 68 zabitych, jedyną wzmianką o skandaliczności tego ataku jest zacytowanie papieża Franciszka, który powiedział, że był to "nikczemny atak na uciekających uchodźców".
Takie piśmiennictwo jest nazywane "roz-brajającą propagandą" (ang.: de-weaponising propaganda) . Naturalną reakcją większości ludzi na to wydarzenie jest myśl, że była to prawdopodobnie robota "syryjskich rebeliantów", a tak ogromne żniwo śmierci szybko pociągnęłoby za sobą krytykowanie poparcia Zachodu dla tych dżihadyjskich najemników. Aby więc ochronić majątek zachodniego rządu w Syrii, BBC próbuje zaciemnić prawdę niewinnymi opisami, jednocześnie naprowadzając na inne tropy, które subtelnie przeniosą odpowiedzialność z terrorystów wspieranych przez USA na rząd syryjski.
Żeby ostudzić publiczny gniew na "rebeliantów", w doniesieniu BBC stwierdzono, że "żadna grupa nie wzięła odpowiedzialności za atak autobusowy". Ale mówiąc "żadna grupa", BBC mąci. Można powiedzieć, że są tylko dwie grupy, które mogą być odpowiedzialne: siły kontrolowane przez Baszara al-Asada i siły opozycyjne. Ale na "siły opozycyjne" składa się wiele różnych ugrupowań.
Mimo że w chwili obecnej kategorycznie wskazanie palcem winnego byłoby spekulacją, można z pewnością powiedzieć, że był nim najprawdopodobniej pewien element "opozycji". Choć BBC mimochodem wskazuje w jednej linii, że nikt nie ujawnił się jako autor ataku, jednocześnie jakoś zapomina, że ​​jesteśmy w trakcie epickiej bitwy o wizerunek, toczonej w ramach wojny w Syrii. Jaka opozycyjna milicja, nie mówiąc już o sojuszu bojowników, przyznałaby się do makabrycznego zamordowania 68 dzieci?
Prowincja Idlib, w której dokonano ataku, jest od początków 2015 roku kontrolowana przez  salafitów-dżihadystów, działających pod okiem Dżabhat Fateh al-Sham (Al-Nusry), którzy w prowincji narzucili praktycznie islamistyczny emirat. Przeważająca w tym regionie ideologia ekstremistyczna jeszcze się umocniła po zawarciu porozumienia, w ramach którego po wyzwoleniu Aleppo twardogłowi bojownicy opozycji mieli się przenieść do Idlib.
W każdym artykule BBC przestrzeń jest cenna, ale zważywszy na skąpe zainteresowanie agencji śmiercią dzieci, na pewno mają miejsce, które mogą poświęcić na wyeksponowanie ekstremistycznej natury "buntowników", którzy prawdopodobnie są za nią odpowiedzialni.
Mogli nam powiedzieć, że na początku 2017 roku po intensywnych walkach pomiędzy dżihadystami powstała koalicja twardogłowych salafitów pod nazwą Hayat Tahrir al-Sham (HTS). Koalicja HTS rzekomo działa pod przywództwem Dżabhat Fateh al-Sham, a w jej skład wchodzi niesławna grupa Nour al-Din al-Zenki – ta sama, która ścięła głowę 12-letniemu chłopcu, który miał nieszczęście wpaść im w szpony. Nazwa Al-Zenki pojawiła się wśród domniemanych grup, stojących za tym atakiem terrorystycznym. BBC mogłoby wspomnieć o Al-Zenki, ale zamiast tego zdecydowało się na niejasne, niezdecydowane oświadczenia na temat zdarzenia, które, gdyby powiedziano o nim prawdę, wywołałoby ogromne oburzenie i rozbudziło emocje. Oczywiście tylko te ataki, za które natychmiast obwinia się Baszara al-Asada, takie jak incydent z bronią chemiczną w Chan Szejkun, są opisane w taki sposób, aby wywołać u nas oburzenie.
Albo mogli ująć to całkiem prosto: "Ci 'rebelianci' są kierowani przez Al-Kaidę – ugrupowanie, które 11 września 2001 r. zamordowało 3000 osób".
Zrobiwszy wszystko, żeby pomieszać nam zmysły i zaciemnić kwestię odpowiedzialności za ten prawdziwie obrzydliwy akt terroryzmu, BBC o dziwo zaczyna grę w przenoszenie winy.
BBC mówi nam, że ich korespondentka na Bliskim Wschodzie, Lina Sinjab "powiedziała, że nie jest jasne, jak ten pojazd mógł dotrzeć w ten obszar bez zgody rządu".
To jedno zdanie jest prawdziwym kandydatem do tegorocznej nagrody za obrażenie inteligencji każdego człowieka. Te autobusy ewakuowały ludzi z terenów kontrolowanych przez "rebeliantów". Jedyne wymagane dla pojazdów zezwolenie, albo cokolwiek innego tego rodzaju, na przebywanie w tej okolicy musiałoby pochodzić od terrorystów, którzy niemal na pewno są odpowiedzialni za tę okrutną zbrodnię. Najwyraźniej BBC zapomniało również o wielu przypadkach, kiedy "ISIS" i inne "rebelianckie" ugrupowania w Syrii zabijały ludzi, którzy usiłowali uciec z kontrolowanych przez nie obszarów.
Dalej w artykule czytamy:
"Ale nie ma też dowodów, że – jak utrzymuje rząd – w atak byli zaangażowani rebelianci".
Wszyscy powinniśmy być uszczęśliwieni odkryciem przez BBC, że do oskarżenia wymagane są dowody. Szkoda, że ​​nie odkryli tej podstawowej zasady 3 kwietnia. Gdyby odkryli, nie oskarżyliby dzień później Asada, jak praktycznie wszystkie główne media i zachodni politycy, o zagazowanie ludności cywilnej w Chan Szejkun – bez jakichkolwiek dowodów.
Wreszcie, aby skierować myśli czytelnika w stronę możliwości, że był to atak rządowy, w artykuł mówi się:
"Nie leżałoby to w interesie rebeliantów, mówi nasza korespondentka, ponieważ sami czekali na swoich zwolenników, żeby ich ewakuowali z pozostałych miast".
Ale następnie wnikliwa dziennikarka BBC sama podkopuje swój argument, mówiąc, że "wymiana została później wznowiona, a autobusy obu stron dotarły bezpiecznie na miejsce".
Gdyby to rząd przeprowadził ten atak, żeby następnie obwinić zań opozycję, moglibyśmy się spodziewać, że odmówi kontynuowania ewakuacji miast Madaja i Al-Zabadani, które oblega. Ale nie zrobił tego.
Obalenie argumentu stało się kompletne, gdy powiedziano nam:
"Poprzednia próba obustronnej ewakuacji w grudniu zakończyła się niepowodzeniem, kiedy rebelianci spalili autobusy, które miały zostać wysłane do miast".
Więc "rebelianci" już to kiedyś zrobili. Wcale nie w innej sytuacji i w innym miejscu, ale dokładnie w tym samym miejscu, kiedy to radośnie sobie śpiewali i krzyczeli, paląc autobusy, które miały ewakuować ludzi z tych od dawna dotkniętych cierpieniem miast.
Ja i wielu innych zdecydowanie twierdzimy, że było to w interesie terrorystów. Jeśli chodzi o zachodnią prasę i stronników terrorystów w Syrii z NATO/Izraela/państw Zatoki Perskiej, to jeśli wina nie może być kłamliwie przypisana Asadowi, ataki na cywili w Syrii nie są warte potępienia.
Z drugiej strony, obwinienie za ten atak Asada, już zarzuconego oskarżeniami o Chan Szejkun – mimo braku jakichkolwiek konkretnych dowodów – byłoby dla niego katastrofą. Naciski, żeby ustąpił, już teraz ogromne, sięgnęłyby zenitu. Tak więc atak pod fałszywą flagą jak najbardziej może być w "interesie rebeliantów".
W normalnym, racjonalnym świecie skuteczne przeprowadzenie pod fałszywą flagą takiego ataku nie miałoby dużej szansy na powodzenie. Jednak protagoniści, dążący do zmiany reżimu, nie są ani normalni, ani racjonalni. Propaganda jest wszechobecna.  Terroryści i ci, którzy ich wspierają, wiedzą, że mają po swojej stronie uległe zachodnie media, bardzo chętne służyć rządowi za tubę propagandową. Ten atak pod Aleppo miał prawdopodobnie być prekursorem – w kolejnym pod fałszywą flagą zapewne pojawi się broń chemiczna.
Tłumaczenie: PRACowniA