[Bardzo możliwe, że desperacja globalnej kabały by zalać Polskę falą nachodźców wynika z ich planów prowokacji "fałszywej flagi" gdzie o użycie broni biologicznej, lub o dawanie schronienia sprawcom, oskarży się Rosję lub jej sojuszników – Syrię, Iran, Chiny… Nachodźcy mogą nieświadomie mieć w sobie zaszczepione patogeny, zapewne wzmocnione nanorobotami dla lepszej kontroli, albo przeszmuglować je w ramach szantażu, łapówki, lub też wypuścić je jako wyszkoleni terroryści Daesz. Broń biologiczna jest dużo bardziej szkodliwa niż chemiczna, która jest nietrwała i podatna na pogodę. Natomiast substancje promieniotwórcze mogą być wykryte przez świetne sensory w rosyjskich satelitach. Jak zapowiedziała Killary atak bronią biologiczną, np. na bazę USA, spotka się z odpowiedzią nuklearną. Ale żeby sobie zapewnić sobie bezkarność w ataku nuklearnym bandyci Imperium Brytyjskiego muszą mieć działające instalacje tarczy antyrakietowej w Europie i Azji. Dlatego tak wściekle i desperacko naciskają w/s nachodźców i tarczy. Brytyjskie kanalie jak Cameron, Fallon i inni niedawno zapowiadali ataki bronią biologiczną przez terrorystów w Europie. Globalna sitwa ma laboratoria broni biologicznej w Warszawie, na UPAdlinie, w Gruzji jest to Lugar Lab. Te plany pokrzyżowała wygrana Trumpa w wyborach prezydenckich, który od razu chciał zablokować zalew nachodźców na USA. Jednak imperium zła się nie poddaje i za wszelką cenę chce usunąć Trumpa, przyjąć uchodźców i zbudować tarczę. Wtedy wszystkie elementy będą na miejscu by dokonać ataku nuklearnego na Rosję i sojuszników. Możliwe że pretekstu dostarczy też atak biologiczny przez Koreę Północną, która jest kolonią Rotszyldów. Dlatego nachodźcy to sprawa życia i śmierci dla Polski, i każdy kto nie popiera tutaj odważnej i patriotycznej postawy obecnych polskich władz jest zdrajcą. Minister Błaszczak nie żartuje kiedy mówi o śmiertelny zagrożeniu. Okazuje się, że Kaczyński przestrzegał przed chorobami roznoszonymi przez nachodźców. Teraz już rozumiem co miał na myśli… PnZ]
Nauka i technologia – Bill Gates ostrzegł światowych liderów, że bioterroryzm może zabić więcej ludzi niż wojna nuklearna.
Filantrop psychopata Bill Gates, którego marzeniem jest zaszczepienie całej ludzkości dla redukcji populacji a jego programy szczepień powodują zgony i lokalne epidemie obecnie promuje sprzedaż szczepionek i sprzętu komputerowego strasząc światowych przywódców globalną pandemią opracowaną przez bioterrorystów.
Jak podała gazeta Telegraph "Bill Gates ostrzegł światowych przywódców, że bioterroryzm może kiedyś zabić setki milionów ludzi w ataku bardziej śmiercionośnym niż wojna nuklearna. Szybkie postępy w dziedzinie inżynierii genetycznej otworzyły drzwi dla małych grup terrorystycznych by mogły łatwo kształtować i łączyć wirusy biologiczne w broń. Uważa on, że otrzymana dzięki temu pandemia jest obecnie jednym z najbardziej śmiertelnych zagrożeń jakie stoją przed światem. Jednak rządy są zadowolone ze skali ryzyka. Przemawiając przed przemówieniem do Konferencji Bezpieczeństwa w Monachium, najbogatszy człowiek świata powiedział, że podczas gdy rządy są zainteresowane rozprzestrzenianiem broni jądrowej i chemicznej, to pomijają zagrożenie bronią biologiczną.
"Ponieważ populacja jest naiwna, to nie istnieją żadne realne przygotowania" powiedział Bill Gates. Gates, którego fundacja charytatywna finansuje badania nad szybkim wychwytywaniem ognisk chorobowych i przyspieszeniem produkcji szczepień, powiedział, że establishment obrony i bezpieczeństwa "nie podążał za biologią i jestem tutaj, aby przynieść im trochę złe wieści". Gates będzie dzisiaj (sobota) opowiadał przed międzynarodowymi liderami i starszymi oficerami, że przyszła śmiertelna pandemia "może powstać na ekranie komputerowym terrorysty".
"Naturalne epidemie mogą być bardzo duże. Celowo spowodowane epidemie, bioterroryzm, mogą być największymi." powiedział gazecie Telegraph."
Tak więc ekspert od wywoływania epidemii programami szczepionkowymi i orędownik redukcji populacji obecnie doradza jak zapobiec katastrofie. Przypomnijmy, iż ostatnia epidemia ebola w Sierra Leone i krajach ościennych wybuchła po testowaniu eksperymentalnej szczepionki na ebola produkowanej przez kanadyjską firmę Tekmira. Podobnie było ze świńską grypą w 2009 r. gdzie firma Baxter rozesłała po Europie skażone szczepionki.
Tak więc jak do tej pory jedynymi bioterrorystami jacy istnieją, są firmy farmaceutyczne. Aż strach pomyśleć czy szefowie tych firm podzielają światopogląd Billa Gatesa.
Artykuł dalej kontynuuje "Pan Gates powie w swoim przemówieniu, że większość rzeczy potrzebnych do ochrony przed naturalnie występującą pandemią są tymi samymi rzeczami jakie są potrzebne do przygotowania się na umyślny atak biologiczny. Narody muszą gromadzić arsenał nowych rodzajów broni do walki z takimi ogniskami choroby, w tym szczepionek, leków i technik diagnostycznych. Możliwość jak najszybszego opracowania szczepionki przy nowym wybuchu jest szczególnie ważna i może uratować dużą liczbę istnień ludzkich, wierzą naukowcy pracujący dla jego fundacji. Zwykle trwa do dziesięciu lat, aby rozwinąć i uzyskać licencję na nową szczepionkę. Aby powstrzymać śmiertelną epidemię w powietrzu czas ten musiałyby być skrócony do zaledwie 90 dni. Potrzeba, aby zatrzymać epidemię jest tak ważna, że kraje powinny przygotować się do nią tak jak przygotowują się do wojny, wraz z dużymi manewrami i ćwiczeniami."

Oprócz więc szczepień miliarder Gates proponuje zakup sprzętu będącego w stanie wykrywać ogniska zapalne nowych chorób. Systemy te, w dużej mierze oparte na biometryce są już dostępne i na pewno są opracowywane przez jego firmę Microsoft. Sprzedaż takiego sprzętu na wypadek pandemii idealnie wpisał by się w model biznesowy opracowany przez Fundację Rockefellera. W 2010 roku fundacja ta bowiem opublikowała raport, w którym proponowała model rozwoju technologicznego opartego na wybuchu pandemii i sprzedaży szczepień i biometrycznych systemów dozoru dla państw. Miało by to również wzmocnić cały sektor IT ze względu na unieruchomienie większości populacji w domach i zmuszenie jej do pracy zdalnej, jak również rządy poprzez wprowadzenie stanu wojennego.
Kończąc pozostaje stwierdzić, iż kampania Gatesa nie jest bezinteresowna i zaplanowana jest by przynieść krocie firmom technologicznym i medycznym, których jest udziałowcem. Widzimy przed nami doprawdy nową twarz filantropii.
---
USA: Użyjemy broni jądrowej bez wahania jeśli zostaniemy zaatakowani bronią biologiczną – zapewnia Hillary Clinton
Sekretarz stanu Hillary Clinton zapowiedziała, ze Stany Zjednoczone nie zawahają się użyć broni nuklearnej, jeśli ich kraj padnie ofiarą ataku z użyciem broni biologicznej. Podkreśliła, że w takiej sytuacji nie będą obowiązywać żadne układy i porozumienia międzynarodowe.
Jeżeli uda nam ustalić kraj, który był sprawcą takiego ataku z pewnością zdecydujemy się na reakcję – powiedziała Clinton w wywiadzie dla stacji CBS.
W ten sposób odniosła się do pytania o zakres obowiązywania nowego układu o nierozprze­strze­nia­niu broni jądrowej (NPT) i polityki wobec broni nuklearnej, którą ogłosiły Stany Zjednoczone.
Towarzyszący jej podczas wywiadu telewizyjnego sekretarz obrony Robert Gates zaznaczył, że podpisane w ubiegłym tygodniu porozumienie nie dotyczy Iranu i Korei Północnej, które nie podporządko­wa­ły się rezolucji ONZ w sprawie prowadzonych przez te kraje programów atomowych.
---
Kenijska policja udaremniła atak biologiczny na szeroką skalę
Zwolennicy samozwańczego Państwa Islamskiego przygotowywali się do zamachu terrorystycznego w jednym z państw Afryki Wschodniej. Policja w Kenii zdołała aresztować kilku islamistów, w tym głównego inicjatora, zanim atak w ogóle doszedł do skutku.
Mózg tej całej operacji, Muhammed Abdi Ali, chciał przeprowadzić zamach podobny do tego z 2013 roku na Westgate Mall, w wyniku którego zginęło co najmniej 60 osób. Ali odbywał wcześniej staż medyczny w jednym ze szpitali w Kenii i studiował na uniwersytecie w Ugandzie. Policja powiadomiła że niedoszły zamachowiec przechodził przez proces radykalizacji, rekrutował studentów oraz młodych Kenijczyków do swojej grupy terrorystycznej.
Islamiści chcieli wykorzystać wąglik jako broń. Wśród zatrzymanych, oprócz Muhammeda Abdi Aliego, jest też jego żona i studentka Nuseiba Mohammed Haji oraz jego znajoma Fatuma Mohammed Hanshi, które podczas aresztowania przebywały w Ugandzie.
Obecnie trwają poszukiwania dwóch kolejnych wspólników, którzy zbiegli i mogą być uzbrojeni. Nie można wykluczyć że przygotowują się właśnie do przeprowadzenia ataku biologicznego. Kenijska policja podała do wiadomości, że w tej grupie terrorystycznej znajdują się eksperci medyczni którzy wspomagali działania islamistów.
---
ISIS are trying to buy chemical and biological weapons warns David Cameron's Defence Review – Mirror Online
Terrorists also want to get hold of 'dirty bombs' that spread radioactive waste, the startling document said.
---
The Bilderber Group's plans for starting WW3: [Updated: 27 December 2016]
Biological weapons of mass destruction 'could wipe out a fifth of world's population' | Daily Mail Online
Ex-Nato commander warned about threat of advanced biological technology
James Stavridis said could lead to epidemic 'not dissimilar to Spanish influenza'
He said prospect of terrorists using bio-weapons was 'most alarming'
Biological weapons of mass destruction with the ability to spread deadly diseases like Ebola and Zika could wipe out up to a fifth of the world's population, it has been claimed.
Ex-Nato commander James Stavridis described the prospect of advanced biological technology being used by terrorists or 'rogue nations' as 'most alarming'.
He said that it could lead to an epidemic 'not dissimilar to the Spanish influenza' a century ago.
Writing in Foreign Policy, Stavridis said: 'In that plague, by some estimates, nearly 40 percent of the world's population was infected, with a 10 to 20 percent mortality rate.
'Extrapolated to our current global population, that would equate to more than 400 million dead.'
He continued: 'Most alarming would be that either rogue nations or violent transnational groups would gain access to these technologies and use them to create biological weapons of mass destruction.'
Last year, an EU report suggested that ISIS has recruited experts to wage war on the West using chemical and biological weapons of mass destruction.
It warned: 'At present, European citizens are not seriously contemplating the possibility that extremist groups might use chemical, biological, radiological or nuclear (CBRN) materials during attacks in Europe.
'Under these circumstances, the impact of such an attack, should it occur, would be even more destabilising.'
Intelligence services were also warned to screen returning Jihadi fighters for 'specialist CBRN knowledge'.
---
Canada played key role in U.S., U.K. biological weapons programs: Walkom | Toronto Star
How Bio-Weapons Led to Torture … and North Korean Nukes | Global Research – Centre for Research on Globalization
---
Merck's president led secret biowarfare program – influencing experiments on Americans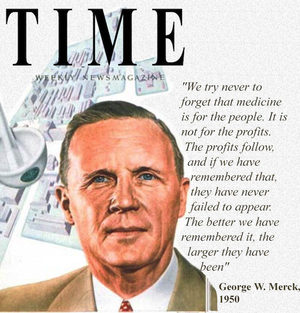 Merck & Co. is the world's largest vaccine manufacturing corporation, and is one of the largest pharma companies in the world. They created such things as the MMR vaccine, and the HPV vaccine Gardasil.
As a corporation that has affected the lives of almost everyone around us in the Western world, with most people receiving their vaccinations that are known to do damage, we should know their history.
In this article, we will examine Merck's connection to biological warfare, and the implications of that connection.
Merck & Co. is not to be confused with the German "Merck KGaA," but they both originate from the original German Merck.
Merck was founded in 1668, in Germany.
By 1887, a US division of Merck called Merck & Co. was set up in New York by George Merck. George Merck moved to NY in 1891.
In April 1917, as the US entered the Great War (WWI), the government announced the seizure of corporations affiliated with Germany.
Merck & Co. was seized, but George Merck and partners founded a "McKenna Corporation" to bid on Merck as it was put up for auction, and they managed to buy Merck back in 1919, fully separating from the other Merck in Germany (as far as we know).
From that point, Merck made efforts to stay boldly on the side of the American war effort, and perhaps that influenced their involvement with the US' biological warfare program during the peak of World War II.
In 1925, the same year Nazi chemical monopoly IG Farben was created, George Merck passed his company onto his son, George W. Merck.
George W. Merck grew up in a privileged position, using the workshop of Thomas Edison as a child and inheriting his position as the president of the company.
He would become Merck's president for 25 years, all throughout World War II: and he was given a central leadership position in the US' biological warfare program during the same years he led Merck, retiring from the company years after his alleged retirement from biowarfare.
It was George W. Merck who led biological warfare work as the head of the War Research Service, the department in charge of Ft. Detrick, while still being president of Merck. According to Wikipedia:
"During World War II, he led the War Research Service, which initiated the U.S. biological weapons program with Frank Olson."
According to MIT Press:
"By midsummer, three candidates had rejected an offer to head the new group: economist Walter W. Stewart, who chaired the Rockefeller Foundation, geographer Isaiah Bowman, president of Johns Hopkins University, and economist Edmund Ezra Day, president of Cornell University. Finally, in August, chemist George W. Merck, president of the pharmaceutical firm Merck & Co., accepted the position.

The innocuously named War Research Service (WRS) started out in mid-1942 with an initial allocation of $200,000. Wide contacts with major biologists and physicians enabled the eight member directorate to initiate secret work in about 28 American universities, including Harvard University, Columbia University, the University of Chicago, Northwestern University, Ohio State University, the University of Notre Dame, the University of Wisconsin, Stanford University, and the University of California. "
To read George W. Merck's report to the Secretary of War in 1945, click here.
This history perfectly illustrates what "the system" is, and how it extends into all the major universities.
He was later given several awards, and was put on the cover of the August 18, 1952 edition of Time Magazine, while the public was unaware he was ever involved with biological warfare, let alone his setting the foundation for experiments on Americans.
Ft. Detrick is one of the most well known biological warfare centers in US history: it's the place where the plan to spray bacteria over San Francisco in the 1950's and 60's under Operation Sea Spray was conceived, shortly after Merck left. After Merck's departure from the War Research Service, Ft. Detrick became a central factor in experiments on US citizens.
It was the place where paperclipped Nazi scientist Kurt Blome advised biological warfare experts on how to experiment on US citizens. Blome had previously experimented on his victims with Bubonic Plague.
It was where Frank Olson worked, the man who was almost certainly assassinated for starting to question the morality of his work with biowarfare, and with MK Ultra. According to Center for Research on Globalization:
"On 28 November 1953, at 2 am, a man crashed through a closed window and fell to his death from the 10th floor of the Statler Hotel in New York City. He was identified as Frank Olson, a bacteriologist with the US Army Research Center at Fort Detrick, Maryland. He had fallen from a room he shared with another scientist, Robert Lashbrook. It was ruled a suicide.

Twenty-two years later, in 1975, William Colby, then CIA director, declassified documents that changed the complexion of the case. It was revealed that Olson had actually been an undercover CIA operative at Fort Detrick, and that one week prior to his death, he had been drinking Cointreau at a high-level meeting with scientists at Deep Creek Lodge in rural Maryland. The Cointreau was laced with a large dose of LSD administered by his CIA boss, Sidney Gottlieb. He was then sent to New York with Lashbrook, also with the CIA, to see a psychiatrist because the LSD had induced a psychosis.

It was also revealed that Olson had been part of the top secret CIA program that was known as Project MK-ULTRA, exploring the use of chemicals and drugs for purposes of mind control, and bacteriological agents for covert assassination. Olson had been working on ways to deliver anthrax in aerosol form, for use as a weapon. New evidence that came to light, through the persistent efforts of Olson's son Eric, made the suicide ruling highly suspect."
Fort Detrick was a secret center of plans to poison and destroy what this compartmentalized power structure said was "the enemy." To understand what other enemy they may have had in mind, we need to understand the academic culture of that era.
With the persistent obsession with eugenics that thrived so much among the wealthy classes in that day, what if "the enemy" was the common people of a nation? What if the enemy were the poor whites, African Americans, alleged "criminals" and dissidents who the prominent academics of early 20th Century America plotted to wage war against through coercive sterilization?
The academic institutions that aided the biowarfare effort, such as Harvard and Stanford, were involved with eugenics and coercive sterilization for decades precisely leading up to the moment biowarfare work begun. They only stopped advocating for eugenics openly when they got a bad rap from the Nazis.
To further illustrate this academic class, a man involved with the creation of "chemotherapy" out of mustard gas was a racist who could be found alongside eugenicists, receiving Rockefeller funding: Dr. Cornelius Rhoads. He was also involved in biowarfare. According to What Really Happened:
"1931: The Puerto Rican Cancer Experiment was undertaken by Dr. Cornelius Rhoads. Under the auspices of the Rockefeller Institute for Medical Investigations, Rhoads purposely infected his subjects with cancer cells. Thirteen of the subjects died. When the experiment was uncovered, and in spite of Rhoads' written opinions that the Puerto Rican population should be completely eradicated, Rhoads went on to establish the U.S. Army Biological Warfare facilities in Maryland, Utah, and Panama. He later was named to the U.S. Atomic Energy Commission and was at the heart of the recently revealed radiation experiments on prisoners, hospital patients, and soldiers (these are covered in the ACHE report.)"
And for more perspective about the 1940's culture of academia, also from What Really Happened:
"1940's: In a crash program to develop new drugs to fight Malaria during World War II, doctors in the Chicago area infected nearly 400 prisoners with the disease. Although the Chicago inmates were given general information that they were helping with the war effort, they were not provided adequate information in accordance with the later standards set by the Nuremberg War Crimes Tribunal. Nazi doctors on trial at Nuremberg cited the Chicago studies as precedents to defend their own behavior in aiding the German war effort."
That's just the tip of the iceberg when it comes to the history of biological warfare: is it really implausible to suggest these people were trying to wage war on the people they didn't like at home?
Through solid anecdotal evidence we can follow the trail and see that these experiments may have been toward an agenda of eugenics, sterilization, population control justified under the guise of some Nazi or Russian threat.
Another anecdotal observation to go along with this theory is that the bacteria sprayed on San Francisco, Serratia Marcescens, is actually thought to cause infertility, as suggested in papers as late as 2017.
Could it be that they sprayed San Francisco to master the use of bacteria that causes infertility?
In conclusion
This is just the entrance to an entire field of research with so much pertinent info to where we are at today.
With more research, this could lead to strong anecdotal evidence that Merck & Co. used pharmaceutical treatments developed shortly after WWII such as the Polio vaccine against Americans, as bioweapons.
After all, Eli Lilly/Merck's Polio vaccine (that came a few years after the biowarfare activity) was mysteriously contaminated with the cancer causing virus SV40, which they claimed had accidentally been derived from the Rhesus monkey kidney cells used to prepare the vaccine. We know associated academics had purposefully given people cancer multiple times in the past.
Many people who understand Merck's Gardasil vaccine for HPV is utterly destroying the lives of thousands of paralyzed, injured, and killed young girls and boys suspect one thing: they suspect Merck is part of an agenda to damage people on purpose, in this same vein of population control we saw in the old age of Merck.
So a question to ask is: could Merck today be complicit with an agenda to poison people? Either deliberate or not, they are undeniably injuring and killing thousands of people, as you can find in VAERS vaccine injury reports or anywhere else you search.
Please share this with as many people, and start researching.
---
Where Will You Go When North Korean Agents Release Biological Weapons In Major U.S. Cities?
Most Americans have no idea that biological weapons could potentially bring our nation to a complete and utter standstill within a matter of days.  In recent articles I have been trying to get people to understand why it would be so exceedingly dangerous for the United States to attack North Korea.  If the North Koreans used weapons of mass destruction, we could easily be facing a situation in which millions of North Korean and Japanese citizens end up dead.  But since it would happen on the other side of the planet, such a scenario doesn't seem to emotionally move a lot of people.  So today, I want to try to get people to understand the immense devastation that just a handful of North Korean agents could cause inside our own country.
 A war with North Korea would be fundamentally different from other wars, because there would be no line that the North Koreans would not be willing to cross.  They would use nukes, they would use chemical weapons, and they would not hesitate to even use biological weapons on innocent civilian populations.
To give you an idea of what a North Korean attack using biological weapons may look like, I have created the following scenario…
In the aftermath of a massive U.S. military strike on North Korea's nuclear facilities, North Korean agents that have been embedded inside the United States for years quickly start going to work.  In Washington D.C., New York, Chicago, Los Angeles and San Francisco, small containers that had been covertly smuggled into the U.S. are opened and dropped on the ground in the middle of large groups of people.  
At first nothing seems to happen, but pretty rapidly those that have been exposed start developing puffy white sores and blisters on their skin.  When this hits the news, panic begins to spread as people realize that this appears to be a coordinated attack.  Before too long, others that have been exposed to a different bioweapon start bleeding profusely from their eyes, ears, mouths and noses.  People drop dead by the thousands, and a national health crisis is declared.
Economic activity comes to a complete halt as everyone becomes deathly afraid of leaving their own homes.  Hospitals and other medical facilities are completely overwhelmed because they can only treat a small fraction of those that are dying.  Because these weaponized diseases were designed to spread like wildfire, pretty soon nearly every community in America is affected.
The federal government attempts to intervene, but it is powerless to stop the spread of these pandemics.  Thousands of dead bodies lie rotting in the streets of our major cities because there aren't enough people willing to take the risk of burying them.  And because virtually everyone is camping out at home, essential public services start to break down very rapidly and our society descends into a state of utter chaos.
Are you starting to get the picture?
If the North Koreans ever conducted such an attack, we would probably have a very difficult time proving that they were responsible.
As people got sick and dropped dead by the thousands, the public would certainly demand vengeance.  Our politicians could point their fingers at North Korea, but of course such an attack could also be conducted by Russia, China, Iran or a number of different radical Islamic terror organizations.
Here in the western world, using biological weapons in this manner is absolutely unthinkable, but the North Koreans have little use for our moral standards.  They have been working very hard to develop a very robust bioweapons program, and according to those that have studied these things, the North Koreans definitely have the capability of launching the type of attack that I just described above…
A South Korean government white paper published in 2012 suggested that North Korea is capable of producing a variety of biological weapons, "including anthrax, smallpox, pest, francisella tularensis, and hemorrhagic fever virus."
And unlike other types of weapons, biological weapons can simply be carried to their targets by the wind.  The following is an excerpt from a recent report from the Rand corporation…
"North Korea could use biological weapons against a variety of military and civilian targets in South Korea. Biological weapons would likely be delivered as an aerosol of some kind that would be dispersed and then carried by the wind. Many people downwind of the release location would be exposed unless they wore some form of protection or were physically located in a place that protected them from exposure. This is particularly true if the attacker creates a line source by spraying, for example, the BW agent while driving along a road perpendicular to the wind. According to one source, 1 kilogram of anthrax could spread lethal effects over 0.2 to 2.6 square kilometers, depending on wind and weather conditions. The nighttime population density of Seoul averages about 20,000 people per square kilometer, meaning that upward of about 50,000 people could be effectively exposed by 1 kilogram of anthrax. But in conditions less favorable to the attacker, including poor atmospheric conditions and many people living in high-rise buildings that lack central heating and ventilation, as few as 2,000 people might be effectively exposed by 1 kilogram of anthrax. Multiple attacks could increase these results."
Thanks to our ridiculously porous borders, it would be no problem at all to smuggle these types of weapons into the United States.  My guess is that if we do go to war with North Korea, it won't be very long at all before North Korean agents that are already embedded here are given the order to attack.
In addition to biological weapons, it is also important to remember that it is estimated that North Korea has an arsenal of up to 5,000 tons of chemical weapons.  The moment that the U.S. begins attacking the North Koreans, they could respond by firing off missiles armed with chemical warheads at Seoul, Tokyo and other major cities in the region.  If this were to happen, the death toll would likely be absolutely catastrophic.
It is funny that China has become the voice of reason in this crisis.  They are urging both sides to cool down, and they are warning the U.S. that an attack on North Korea could quickly become a complete nightmare…
An editorial in the influential newspaper Global Times, which is published by the Chinese Communist Party' People's Daily, said the situation on the Korean Peninsula could not be compared to that of Syria.

"Taking military actions against North Korea is much more risky than launching a missile strike on Syria. Pyongyang is able to deal a heavy blow to South Korea. Regardless of Pyongyang's nuclear capability, a radiological dispersal device, or a 'dirty bomb,' if thrown on the South, will cause nuclear pollution, which will be unbearable to this US ally," the newspaper warned.
Unfortunately, it doesn't appear that either side is willing to back down.
In fact, it is being reported that North Korea may be preparing to conduct a major nuclear test as early as this weekend…
A Voice of America journalist tweeted that US government sources believe North Korea had placed a nuclear device in a tunnel and it could be detonated as early as this weekend.

It comes after Washington-based 38 North, a website that monitors North Korea, said satellite images from Saturday showed vehicles and trailers at the Punggye-ri test site and signs that communications cables may have been laid to a test tunnel.
If the North Koreans detonate a nuclear device within the next few days, that might be the final straw for Trump.
And whether a nuclear test happens or not, the North Koreans seem to be preparing for war.  It is being reported that Kim Jong-Un has ordered nearly 600,000 people to leave the capital, and he has placed his military on the highest state of alert.
This is one of the reasons why I am always strongly urging my readers to get prepared.  If you wait to take action until war starts and weapons of mass destruction are being used, it will be way too late to gather the food and supplies that you and your family will need.
Let us certainly hope that the kind of scenario that I have laid out in this article does not happen, but at this point both Donald Trump and Kim Jong-Un do not appear to be bluffing, and that means that anything is possible.
---
Bill Gates, the man who tops the Forbes richest person in the world list has just issued a grave warning about a potential catastrophe that could kill 30 million people at the Munich Security Conference held in Germany:
"Whether it occurs by a quirk of nature or at the hand of a terrorist, epidemiologists say a fast-moving airborne pathogen could kill more than 30 million people in less than a year. And they say there is a reasonable probability the world will experience such an outbreak in the next 10 to 15 years."
Although Bill Gates didn't provide much contextual information, a month ago similar warning was voiced from London by the Thomson Reuters Foundation with specific details.
The global spread of bird flu and the number of viral strains currently circulating and causing infections have reached unprecedented levels, raising the risk of a potential human outbreak, according to disease experts.
The greatest fear is that a deadly strain of avian flu could then mutate into a pandemic form that can be passed easily between people – something that has not yet been seen.
Avian influenza A(H7N9) is a subtype of influenza viruses that have been detected in birds in the past. This particular A(H7N9) virus had not previously been seen in either animals or people until it was found in March 2013 in China.
In China, H7N9 strains of bird flu have been infecting both birds and people, with the number of human cases rising in recent weeks. According to the WHO, more than 900 people have been infected with H7N9 bird flu since it emerged in early 2013.
However a year later in 2014 a new avian influenza virus (H5N6) was discovered in China and was believed to be a cross species infection. H5N6, though not deadly to avian population its clinical manifestation in human seems severe. According to a research paper published in the Asian Pacific Journal of Tropical Biomedicine:
"the widespread epidemic of avian influenza in domestic birds increases the likelihood for mutational events and genetic reassortment and the threat of a future pandemic from avian influenza is real. It is apparently proposed that genetic alteration is the basic problem causing existence of the new influenza virus. Reid and Taubenberger concluded that "novel influenza virus strains emerge periodically to which humans have little immunity, resulting in devastating pandemics."
Nearly 40 countries have reported new outbreaks of highly pathogenic avian influenza in poultry or wild birds since November, according to the WHO. Few weeks back animal quarantine authorities in Taiwan have slaughtered at least 150,000 poultry after an outbreak of the bird flu was found in many counties and cities across the island. In the UK, after the Department for Environment, Food and Rural Affairs (Defra) detected the H5N8 strain the authorities confirmed to have culled 23,000 chickens. The disease is reported to have reached Ireland. Spain's Central Veterinarian Laboratory in Algete, in the outskirts of Madrid reported a case of the highly contagious H5N8 bird flu virus in a northeastern farm in Catalonia and said it would cull 17,000 ducks.
In 2015 Russia had stopped the movement of US poultry through the country in an effort to halt re-importation. 157 cases of bird flu were found in 17 Russian states which resulted in the slaughtering of 33.3 million chickens. Russian Agricultural watchdog Rosselkhoznadzor found "harmful residues and illegal substances," including antibiotics, in the products. "This decision was made due to the fact that the US is at the centre of a bird flu infection and we have seen facts of American transit products returning to our market," the head of Rosselkhoznadzor Sergey Dankvert told Interfax. Now Rosselkhoznadzor is about to ban import of poultry from several EU countries as well where outbreaks were registered. The Saudi Food and Drug Authority (SFDA) recently banned poultry products from 6 countries. Dozens of countries have imposed total or partial bans on U.S. poultry and poultry imports since the outbreak of this highly pathogenic avian influenza (HPAI) was discovered.
The threat posed by this deadly avian flu and how a WTO ruling puts India at grave risk of a deadly pandemic was reported by GreatGameIndia six months back in August.
To prevent the disease from entering into the Indian market India had already banned the import of frozen chicken legs from the U.S. to stop the spread of this deadly avian influenza. However US raised a dispute with the WTO.
"India's ban on U.S. poultry is clearly a case of disguising trade restrictions by invoking unjustified animal health concerns," US Trade Representative Ron Kirk said in a statement. "We are confident that the WTO will confirm that India's ban is unjustified."
A separate statement from US Agriculture Secretary Tom Vilsack claimed that the United States had repeatedly sought scientific evidence for the import restrictions.
"Countries have the right to impose certain restrictions," said Alex Thiermann, President of the OIE Code Commission. However, he added that "the code very clearly says that low pathogenic influenza allows for trade."
A WTO panel confirmed in June 2015 an earlier ruling that India's ban was not based on international scientific standards, was more trade restrictive than necessary, and unfairly discriminated against U.S. imports. India was given until June 2016 to lift the ban and follow international standards. Along with it India was to be slapped with a penalty of $450 million per year for failing to comply with a World Trade Organization ruling.
The concerns of the Rs 50,000 crore Indian poultry industry regarding chicken raised on genetically modified (GM) corn and soya as feed being dumped on the Indian market have since fallen on deaf ears with no action from the Indian Government.
Excerpt from GreatGameIndia's report – Is The Disease That Resulted In Death Of 50 Million Birds, 8444 Job Losses And $3.3 Billion Loss To US Economy, Coming Soon To India?
While countries around the world are trying to prevent this now mutated deadly avian flu outbreak into their human population through ban on poultry imports from certain countries, the Indian Government seem to have negotiated an agreement with US officials during the Strategic and Commercial Dialogue in New Delhi last year. Even though reports of bird flu cases are pouring in from different parts of the country substantial steps are yet to be taken by the govt to contain the outbreak.
Like India, China is facing the largest pandemic threat to hit the country in the last 100 years accounting for the deaths of 79 people in January from the 192 human cases reported so far. Until it was detected in China in March 2013, the virus hadn't been seen in people or animals, apart from birds.
At the time Sr. Col. Dai Xu a Chinese Air Force officer of the People's Liberation Army accused the U.S. government of creating the new strain of bird flu afflicting China as a biological warfare attack. Dai alleged the new bird flu strain had been designed as a bioweapon, similar to severe acute respiratory syndrome (SARS), that affected the country in 2003 which was also developed as a US bio-weapon.
"At that time, America was fighting in Iraq and feared that China would take advantage of the opportunity to take other actions," he said. "This is why they used bio-psychological weapons against China. All of China fell into turmoil and that was exactly what the United States wanted. Now, the United States is using the same old trick. China should have learned its lesson and should calmly deal with the problem."
In 2011 it was revealed that the U.S. government paid scientists to figure out how the deadly bird flu virus might mutate to become a bigger threat to people — and two labs succeeded in creating new strains that are easier to spread. The details of the study were not published until in 2014 when Ron Fouchier and his team at Erasmus Medical Center took the H5N1 flu virus and made it more contagious. Now the team has published another study with more details on the exact genetic changes needed to do the trick. Critics argued that the scientists had created a dangerous new superflu.
The security versus scientific openness debate is a long drawn out battle. The question is where does India stand? Before addressing the issues of science and security first India need to settle the question of international trade arbitration and the political will to do it. India with the population of one billion has high chances of rapid transmission of such virus – Ebola or Swine Flu or any other deadly virus once it hits the crowded metropolitan cities of India. Is India prepared to tackle a weaponized attack of such viruses? How would we know if it could be classified as a naturally occurring phenomenon or a biological attack? What should be our counter response if it were found to be an attack? Does India have a National Security policy that deals with such a scenario?
*Report by Shelley Kasli, GreatGameIndia
---
There are some factors that suggest the swine flu killing people in Mexico may be a biological weapon, but obviously no such conclusion can be drawn at this time. The World Health Organization and the U.S. government have been quick to deny such claims.
The swine flu virus is described as a completely new strain, an intercontinental mixture of human, avian and swine viruses. Tellingly, there have been no reported A-H1N1 infections of pigs.
According to a source known to former NSA official Wayne Madsen, "A top scientist for the United Nations, who has examined the outbreak of the deadly Ebola virus in Africa, as well as HIV/AIDS victims, concluded that H1N1 possesses certain transmission "vectors" that suggest that the new flu strain has been genetically-manufactured as a military biological warfare weapon.
Madsen claims that his source, and another in Indonesia, "Are convinced that the current outbreak of a new strain of swine flu in Mexico and some parts of the United States is the result of the introduction of a human-engineered pathogen that could result in a widespread global pandemic, with potentially catastrophic consequences for domestic and international travel and commerce."
However, it's important to stress that it is far too early to make this assumption. We have to bear in mind that the number of victims has been comparatively low when one considers the fact that hundreds of thousands in Mexico contract infectious diseases every year related to poverty like tuberculosis and malaria.
Fort Detrick, the U.S. Army Medical Command installation that was the source of the 2001 anthrax attacks, is again attracting suspicion in light of the swine flu panic after it was revealed that criminal investigators are probing whether virus samples recently went missing from its biolabs.
"Chad Jones, spokesman for Fort Meade, said CID is investigating the possibility of missing virus samples from the U.S. Army Medical Research Institute of Infectious Diseases," reports The Frederick News.
In February, USAMRIID halted their work when virus samples were discovered that were not listed in its inventory. Criminal investigators from the U.S. Army Criminal Investigation Division unit at Fort Meade are now probing whether virus samples are missing from the Army's top biolab, which also studies pathogens including ebola, anthrax and plague.
Obviously, in light of the current swine flu scare, and the new strain's possible synthetic origin, the fact that virus samples may have gone missing from the same Army research lab from which the 2001 anthrax strain was released is extremely disturbing.
A 2008 FBI and DOJ investigation concluded that Bruce Edwards Irvins, a microbiologist, vaccinologist, and senior biodefense researcher at the United States Army Medical Research Institute of Infectious Diseases (USAMRIID) in Fort Detrick, Maryland, was responsible for mailing anthrax to members of Congress and the media in September and October 2001.
The fact that Irvins apparently committed suicide shortly before the announcement led many to suspect that he was a patsy in a wider plot. Despite the suspicious circumstances, no autopsy was carried out on Irvins' body. His attorney was certain that Irvins, who had cooperated with the 6-year investigation, was innocent of the five anthrax deaths.
The Department of Justice initially considered Dr. Steven Jay Hatfill to be a strong suspect in the anthrax attacks, but he later sued the government and won $5.8 million in damages. A New York Times piece on Irvins' suicide asked the hypothetical question: "What if Dr. Hatfill had committed suicide in 2002, as friends feared he might? Would the investigators have released their evidence and announced that the perpetrator was dead?"
Fears that a mass pandemic was being readied as a biological attack have rumbled on in the conspiracy community ever since 9/11. Investigators point to the highly unusual number of deaths of top microbiologists to suggest that people with knowledge of the program are being eliminated.
---
Special Report. CIA Cancer Warfare. Not just Chavez but Neto and Thompson — Victims of CIA cancer weapons?
by Wayne Madsen March 11-12, 2013
The U.S. State Department, far from being an instrument of American diplomacy, is a boiling cauldron of neo-conservative impudence and arrogance unmatched since the days of the German Third Reich's Foreign Ministry. The State Department called charges from government, military, and political leaders around the world that Venezuelan President Hugo Chavez Frias fell victim to one of the many stockpiled CIA cancer weapons "absurd."
What is absurd is the State Department's selective use of recent American history. The historical record shows that the Central Intelligence Agency continued to possess and develop biological warfare weapons, including miniaturized weapons for political assassinations, long after the United States signed and ratified the 1972 Biological Warfare Convention banning the possession and research on such weaponry.
Violating the Biological Weapons Convention
Perhaps the State Department should brush up on the history of international conventions the United States has secretly broken. The following August 23, 1975 memo from CIA Deputy Director for Plans Thomas Karamessines to CIA director William Colby outlines how the CIA's Special Operation Division, a joint U.S. Army-CIA element at Fort Detrick, Maryland, was instructed to maintain a supply of toxins not included on the official Fort Detrick inventory list that was subject to President Richard Nixon's disposal order pursuant to the biological warfare convention agreement. The memo was provided to the Senate Church Committee investigating the abuses of the U.S. Intelligence Community. Concerned that Nixon's order might result in the destruction of the CIA's "germ supply," a contingency plan was developed to ship the CIA's toxins to Huntingdon Research Center at the Becton-Dickinson Company in Baltimore, a firm established in 1897 by Maxwell W. Becton and Fairleigh S. Dickinson. The company, now known as BD, specializes in injection and infusion products, including needles and syringes. One might wish to ask the State Department why the CIA, anxious to hide its supply of dangerous toxins, would select a firm that produces needles and syringes. The answer is quite simple, the CIA continued to develop toxic warfare weapons after the ratification of the treaty prohibiting their possession and use. The memo states that the "stockpile capability plus some research effort in delivery systems is funded at $75,000 per annum."
Since the 1970s, the bio-warfare capabilities of the United States, including the covert introduction of cancer-causing pathogens into targeted persons has mushroomed in cost and effectiveness. The use of nano-technology and micro-mechanical flying and crawling insects, coupled with bio-toxin payloads, is no longer in the realm of science fiction but is scientific fact.
Not only are cancer-causing biological toxins used for cancer weapons but inorganic elements are also employed. Only a few micrograms of beryllium and polonium-210 are required to cause the development of fibrotic tumors that result in lung cancer.
Among the "germs" in the CIA's bag of tricks were anthrax, tuberculosis, encephalitis, small pox, snake venom, and food poisoning, including salmonella.
Targeting Latin American leaders
In July 2006, during the MERCOSUR (Southern Cone Common Market) summit in Cordoba, Argentina, three leaders held a concurrent "People's Summit," which lambasted U.S. foreign and economic policy in Latin America. Attending the People's Summit were Cuba's Fidel Castro, Venezuela's Chavez, and Argentine President Nestor Kirchner. Shortly after returning to Havana from Cordoba, Castro fell violently ill with a mysterious gastrointestinal ailment. Castro recovered but CIA-linked media outlets in Miami's Cuban exile community began to falsely report that Castro died. In November 2006, Kirchner was diagnosed with an advanced form of colon cancer. However, Kirchner, who gave up the presidency in favor of his wife, Cristina Fernandez de Kirchner, in 2007, died from a sudden heart attack after it was revealed he was running to succeed her. In 2012, Cristina was diagnosed with thyroid cancer. Chavez was first diagnosed with cancer that first appeared in his pelvic region in June 2011.
A July 26, 2006 Confidential cable from the U.S. embassy in Buenos Aires complained about the People's Summit, decrying the fact that "Chavez and Castro dominated" and that the U.S. was trying to drive a wedge between Chavez and Castro on one hand and Kirchner and Brazil's Ignacio Lula da Silva on the other. The American scheming failed to work. Another, more sinister effort to derail Chavez, Castro, and Kirchner was needed.
Venezuela's acting President Nicolas Maduro; the head of the Venezuelan presidential guard, General Jose Ornella; Bolivian President Evo Morales, and Russian Communist Party leader all stated that they believed Chavez was slowly assassinated with a secret cancer weapon developed by Venezuela's enemies (they are primarily the United States and Canada). Maduro said Venezuela will set up a scientific commission to investigate the cause of Chavez's death.
Chavez said that Castro once told him: "Chavez take care. These people [the Americans] have developed technology. You are very careless. Take care what you eat, what they give you to eat  . . . a little needle and they inject you with I don't know what." Another translation had Castro stating, "Chavez be careful, they've developed technology, be careful with what you eat, they could stick you with a small needle." Chavez passed Castro's warning on to Bolivian President Evo Morales and Ecuadorian President Rafael Correa, both allies of Chavez. There have been rumors that Morales had a cancerous tumor removed from his nasal tract.
From La Paz, Morales said, "I am almost certain that this is a poisoning of Chavez."
The Bolivian leader likened the death of Chavez to the poisonings of Palestinian President Yasir Arafat and Latin American liberator Simon Bolivar.
Maduro called the Chavez's cancer a "scientific attack." In addition to all the other progressive Latin American leaders who developed cancer within a few years, Paraguay's former President Fernando Lugo (ousted in a 2012 CIA-backed coup) was diagnosed with non-Hodgkins lymphoma; Brazil's former President Lula da Silva with throat cancer; and Brazil's current President Dilma Rousseff with axillar lymphoma, cancer of the lymphatic system. After Colombia's conservative president Juan Manuel Santos began peace talks with the leftist Revolutionary Armed Forces of Colombia (FARC), via the offices of Chavez, Santos was diagnosed with prostate cancer.
History of U.S. cancer and other bio-weapons
One does not have to go back to the early days of the CIA to discover that Latin America has, since the 1930s, been a testing ground for American cancer weapons targeting human beings.
In 1931, Dr. Cornelius P. Rhoads, a white racist and anti-Latin American scientist with the Rockefeller Institute for Medical Investigations in San Juan, subjected 13 Puerto Ricans to experiments by injecting them with cancer-causing biological agents. The head of the Puerto Rican Nationalist Party, Pedro Albizu Campos, known as "El Maestro" to his followers, obtained a letter from Rhoads to a friend in which Rhoads wrote of Puerto Ricans:
"I can get a damn fine job here and am tempted to take it. It would be ideal except for the Porto [sic] Ricans. They are beyond doubt the dirtiest, laziest, most degenerate and thievish race of men ever inhabiting this sphere. It makes you sick to inhabit the same island with them. They are even lower than Italians. What the island needs is not public health work but a tidal wave or something to totally exterminate the population. It might then be livable. I have done my best to further the process of extermination by killing off 8 and transplanting cancer into several more. The latter has not resulted in any fatalities so far . . . The matter of consideration for the patients' welfare plays no role here – in fact all physicians take delight in the abuse and torture of the unfortunate subjects."
Albizu complained to the League of Nations but it came to no avail. In 1950, Albizu was arrested in a crackdown on Puerto Rican nationalist activities on the island and Albizu was subjected to radiation burns and poisoning. There is little doubt that Rhoads, who directed the Army's chemical and biological weapons programs at Fort Detrick, the Dugway Proving Ground and Deseret Test Center at Fort Douglas in Utah, and the Panama Canal Zone, subjected Albizu to revenge medical experimentation. Rhoads then went on to the senior staff of the Atomic Energy Commission, which also subjected American citizens to dangerous radiation tests.
The CIA's and Pentagon's cancer weapons research was largely based out of Fort Detrick, Maryland. Albizu suffered a stroke in prison in 1956. In 1964, he was pardoned but died shortly after his release from prison in 1965. Albizu was the first victim of U.S. cancer weapons and, like Chavez, he was a strong Latin American nationalist not willing to bend to the pressure of North American imperialism.
There is an unsettling footnote to the story of Albizu's death as a result of medical experiments. In 1957, a year after he suffered a stroke in prison, the CIA's favorite vendor for syringes and infusion devices, Becton-Dickinson, opened a manufacturing facility in Juncos, Puerto Rico. By the 1970s, when the CIA transferred its bio-weapon stockpile to Becton-Dickinson, the firm had established a major bio-science presence in Puerto Rico. Today, the firm partners with the William J. Clinton Presidential Foundation to provide HIV/AIDS testing in developing countries.
Puerto Rican Nationalist leader Pedro Albizu Campos was one of America's first victims of a bioweapons assassination.
Modern bio-warfare
AIDS first appeared during the Angolan civil war in the 1970s when Cuban troops fighting CIA- and South African-backed guerrillas came into contact with the disease. In the 1960, the CIA's Technical Services Department chief, Dr. Sidney Gottlieb, born Joseph Scheider, came up with a exotic weapon that was to be used to poison Congolese nationalist prime minister Patrice Lumumba. It was never used but the CIA station chief in Leopoldville, Larry Devlin, was told to somehow slip the toxin, contained in a vial, to Lumumba. The toxin was never used and Devlin said he tossed the vial into the Congo River. Gottlieb had come up with other ingenious ways to kill Fidel Castro and Iraq's dictator Abdul Karim Kassem. It was none other than the CIA's loyal agent, Saddam Hussein, who tried but failed to kill Kassem on October 7, 1959.
The Clark Amendment of 1976 banned U.S. aid to military or paramilitary forces fighting in the post-independence civil war in Angola. Never deterred by the law, the CIA began to use intermediaries, including Israel and South Africa, to support pro-U.S. guerrillas fighting the central government of Marxist president Agostinho Neto. The CIA had rejected Neto's approach to the John Kennedy administration in 1962 to support the cause of Angolan independence from Portugal. Neto was seen by Langley as too pro-Communist and decided to back the weakest and most unpopular of the Angolan independence movements.
In 1976, the CIA and Pentagon continued their bio-weapons research at the U.S. Army Medical Research Institute for Infectuous Diseases at Fort Detrick and Edgewood Arsenal, also in Maryland. Other parts of the Fort Detrick complex were turned over to the National Cancer Institute (NCI), which continued to conduct a liaison with the CIA and Pentagon elements at the facility. The CIA's research into cancer-causing agents centered on the Viral Cancer Program (VCP) of the NCI. One of the cancer weapon projects, funded by the NCI and Office of Naval Research, the latter a favorite research pass-through for the CIA, was called "Aerosol Properties of Potentially Oncogenic Viruses." The clear intent for the interest of the Navy and CIA was the delivery of cancer-causing weapons by aerosolized means. Most of the aerosolized cancer-causing efforts had been conducted from the 1960s to 1972 at the University of Ohio and Oak Ridge National Laboratory. In addition to biological cancer-causing agents, research was also conducted on the production of carcinogenic chemicals.
A number of private pharmaceutical companies were also identified with the clandestine bio-war research, including Pfizer, Sandoz, Litton-Bionetics, and Hoffman-Laroche. The research also involved the secretive Department of Agriculture research center on Plum Island off the tip of Long Island.
Neto, who was targeted by the CIA in violation of congressional prohibitions, quickly developed cancer in 1979 and died in a Moscow hospital before the age of 57. Shortly thereafter, Cuban troops fighting in Angola for Neto's government began returning home suffering from HIV/AIDS. Just as with the cancers that have struck Latin American leaders, the CIA and State Department brushed off reports that the CIA created HIV/AIDS to infect Cuban troops a "Soviet disinformation" campaign.
In 1989, the General Secretary of the South African Council of Churches, Reverend Frank Chikane, fell extremely ill while on a visit to the United States. The FBI later concluded that Chikane had been exposed to an organophosphate toxin. The CIA was aware that the origin of the substance was the South African intelligence service. Furthermore, the CIA was aware of the Suoth African operation to kill Chikane.
Primary U.S. targets: Caribbean leaders
The CIA's bio-weapons may not have been trained only on nationalistic Latin American and black African leaders but also Afro-Caribbean leaders of islands the U.S. considers to be quasi-protectorates of Washington.
The United States has always considered Barbados as its number one willing ally among the English-speaking islands of the Caribbean. With its high per capita income and advanced infrastructure, Barbados was the Ronald Reagan administration's primary local water-carrier for the U.S. invasion of Grenada in 1983. The pretext for the invasion was to "rescue" a number of American medical students from the St. George's University School of Medicine but in reality the invasion was to expel Cubans and other nationals of communist countries after a Marxist coup ousted the leftist Prime Minister Maurice Bishop. Bishop had long contended the medical school was a CIA front. In fact, its director, Sir Geoffrey Bourne, whose son, Peter Bourne, served in the U.S. Special Forces and was President Jimmy Carter's health policy adviser, may have served as the inspiration behind Robert Ludlum's "Bourne Identity" series of novels about CIA mind-controlled assassin Jason Bourne. After the Jonestown massacre in 1978, some of the CIA interlocutors for the Reverend Jim Jones's People's Temple operation in Guyana escaped to Grenada and were in contact with the St. George's Medical School.
During the next three decades, three Barbadian Prime Ministers who showed a tendency to question U.S. hegemony in the region all died very suddenly. The first was the backer of Reagan's invasion of Grenada, Prime Minister Tom Adams. Adams grew uneasy when the U.S. requested that the St. George's Medical School be moved to Barbados. A relative of Adam's told this reporter that Adams had been contacted by a representative of Soviet intelligence who briefed him on the role of the St. George's Medical School in carrying out inhumane CIA experiments that were follow-ons to the CIA's MKNAOMI and MKULTRA programs. MKNAOMI involved biological assassination weapons and MKULTRA was an umbrella program that involved psychologically-programmed assassins. Adams began to sent messages to the Reagan administration that he was no longer interested in hosting the St. George's Medical School in Barbados. On March 11, 1985, Adams died at the age of 53 from a sudden heart attack at his official residence. The CIA spun the story in the local press that Adams had been killed by the KGB in retaliation for his support for the U.S. invasion of Grenada.
The following year, former Prime Minister Errol Barrow, once again, became Prime Minister in a landslide election for his opposition party. Barrow was a bitter opponent of the U.S. invasion of Grenada and referred to Reagan as the "cowboy in the White House" and declared that Reagan was a programmed zombie and a very dangerous person.
On June 1, 1987, Barrow collapsed at his home and died. He was 66.
David Thompson became Prime Minister in 2008. At first, Washington believed him to be a bulwark against Chavez's growing popularity in the English-speaking Caribbean but soon, St. Vincent's leftist Prime Minister Dr. Ralph Gonsalves, who once preached radical politics at the University of the West Indies campus in Barbados, began to convince Thompson that Chavez was beneficial to the Caribbean Common Market (CARICOM) nations. Thompson showed signs of interest in two of Chavez's major projects, the
Bolivarian Initiative for the Americas (ALBA), a counterweight to Washington's Free Trade Area of the Americas (FTAA), and PetroCaribe, which supplied inexpensive oil and gasoline to the CARICOM nations. Although Barbados, unlike St. Vincent, was not a member of ALBA, Gonsalves kept Thompson apprised of ALBA developments
According to a February 1, 2008 Confidential cable from U.S. ambassador to Barbados and the Eastern Caribbean Mary Ourisman, she and U.S. embassy staff were concerned about Gonsalves initial meeting with Thompson concerning ALBA.  Ourisman, whose foreign policy experience consisted of hosting GOP fundraisers with her wealthy Republican husband, the owner of automobile dealerships in the Maryland suburbs of Washington, DC, was concerned about February 2008 visits planned by Chavez and Nicaragua's Daniel Ortega to Antigua, Dominica, and St. Vincent. There was a fear by the CIA stations in the Eastern Caribbean that Chavez would convince other English-speaking nations like Barbados to join ALBA in return for reduced price fuel from Venezuela. For that reason, Washington was trying to exacerbate an old maritime boundary dispute between Barbados and Venezuela.
Thompson also incurred Washington's wrath over his growing ties with China and Cuba. Ourisman's cable warned: "Thompson continues Barbados' aversion to being seen as too close a friend of the U.S. and has rebuffed appeals for closer cooperation on UN human rights issues." Barbados rejected Washington's demands that it be more forceful in the United Nations against alleged human rights violations in Iran, Cuba, and other countries.
In March 2010, Thompson began complaining of stomach pains. In October, Thompson was dead from pancreatic cancer. He was 48.
In 2011, the Caribbean press began to openly worry about cancer striking Gonsalves after Chavez was diagnosed with the disease and Thompson died from it.
Dominica's Prime Minister Roosevelt "Rosie" Douglas had long been a thorn in the side of the United States. A conservative-turned-radical, Douglas was an outspoken opponent of Prime Minister Eugenia Charles's support for Reagan's invasion of Grenada. Douglas also nurtured close ties with Fidel Castro, Muammar Qaddafi, and Venezuela's Chavez. After years in the opposition, Douglas became Prime Minister of Dominica in January 2000. On October 2 later that year, Douglas was found dead at 10 am in his home 30 miles from the capital Roseau of unknown causes. He had returned the previous day from a CARICOM summit in Jamaica. Douglas was 58. His successor and fellow leftist, Pierre Charles, became ill in Febriary 2003 and had to undergo angioplasty surgery. He died while returning from a Cabinet meeting from a heart attack. He was 49.
Designer bio-weapons in the hands of the neo-cons
In 1986, the deputy assistant Secretary of Defense for policy testified before the House Permanent Select Committee on Intelligence that the Pentagon had the capability to develop "designer" biological weapons for specific military purposes. The official who ecstatically showed a keen interest in designer biological warfare weapons was Douglas J. Feith, who, during the George W. Bush administration was one of the neo-conservative architects of the ill-fated invasion and occupation of Iraq. Feith, the son of the former President of the Zionist Organization of America, is also known to be a cipher for Israeli intelligence.
Over the years, the CIA and Pentagon developed various methods to infect their enemies with toxins. They ranged from the simple — syringes, toxin-tipped needles, and ingesting tainted food and drink to the more sophisticated, including transmission from clothing, especially underwear; inhalation; and even the poisoning of toothpaste, the latter one of the many MKNAOMI plans to kill Fidel Castro. Although the United States and Britain ratified the 1972 Biological Warfare Convention, both nations cooperated on bio-warfare agents long after the ratification. Detrick and Edgewood in the United States and Porton Down and Nancecuke in the United Kingdom jointly cooperated in research, development, and possession of bio-warfare agents.
Over the years, the United States also reportedly maintained covert biological weapons facilities in Lahore, Pakistan; Môle St. Nicholas, Haiti; Jakarta, Indonesia; Cairo, Egypt; Lima and Iquitos, Peru; Pearl Harbor, Hawaii; Bangkok, Thailand; Camp Zama, Japan; Enoggera, Australia; Warsaw, Poland; Kamina airfield, Zaire; and Rio de Janeiro, Brazil.
In 1981, Cuba and many Caribbean islands reported outbreaks of dengue fever linked to a CIA operation to sicken the Cuban population. In May 1981, a sharp increase in cases of dengue fever, known to be transmitted by mosquitoes carried by tropical storm winds for hundreds of miles, began appearing all over the Caribbean, but particularly in Havana, Camaguey, and Cienfuegos. In August, cases in Cuba spiked to well over 330,000. But "collateral damage" of dengue infections was also visited upon Mexico, Colombia, El Salvador, Honduras, Puerto Rico, Haiti, Guatemala, Trinidad and Tobago, St. Lucia, Anguilla, Antigua, Barbados, Dominica, Grenada, Montserrat, and Florida.
Dominica's Rosie Douglas, one of many Caribbean and Latin American leaders suspected of being assassinated by bio-weapons, courtesy of the CIA.
 Cancer warfare
If, as the State Department and Obama administration officials proclaim, it is absurd to suggest the United States can infect someone with cancer cells or viruses, why did Drs. Lawrence Loeb and Kenneth Tartof of the Institute for Cancer research in Philadelphia, writing in the July 23, 1976 issue of Science magazine, call for an immediate ban on "all experiments involving co-cultivation of known oncogenic viruses with primate viruses" because, as they further wrote, "the production of malignant tumors in a variety of primate species suggests the possibility of creating viruses that are oncogenic for humans?" Some of the U.S. government's primate cancerous tumor research was conducted at Tulane University's Delta Regional Primate Research Center in cooperation with Tulane's Dr. Alton Ochsner. a top cancer researcher who also maintained links with the CIA.
When the Venezuelan government begins its investigation of how Chavez was infected with aggressive cancer, it should begin by translating the wealth of documents on U.S. cancer weaponry available from the CIA's own historical record, as well as records from dozens of research laboratories, archives, and universities across the United States. Venezuela can then begin to trace back Chavez's activities and match them with known methods used by the CIA top infect their victims. Depositions from the doctors who have attended to cancer patients Neto, Thompson, Lugo, both Kirchners, Lula, Santos, Rousseff, Morales, Castro, as well as former Croatian Socialist Prime Minister Ivica Racan, dead at 63 from kidney cancer; ABC News anchor Peter Jennings, dead at 67 from lung cancer; Jamaican singer Bob Marley, dead at 36 from skin cancer; former Finnish Prime Minister Ahti Karjalainen, dead at 67 from pancreatic cancer; Senator Frank Church (who investigated the CIA's use of cancer-causing weapons), dead at 59 from pancreatic cancer; Canadian New Democratic Party leader Jack Layton at 61 from prostate cancer; and CBS newsman and author of Charlie Wilson's War George Crile III, dead at 61 from pancreatic cancer.
Other U.S. victims?
Controversy surrounds the deaths of a number of other political leaders who stood in the way of America's imperialistic designs. They include Egyptian President Gamal Abdel Nasser (heart attack at 52), former Indonesian President Sukarno (kidney failure at 69), Danish Social Democratic Prime Ministers Hans Hedtoft and his successor Hans Christian Hansen (Hedtoft of a sudden heart attack at 51 and Hansen of cancer at 52), leftist New Zealand Prime Minister Norman Kirk ("heart problems" at age 51), Jamaican Prime Minister Donald Sangster (subarachnoid hemorrhage at 55), Cypriot President Archbishope Makarios (heart attack, age 63), Palestinian President Yasir Arafat (possibly poisoned by thallium, age 75), former British Foreign Secretary Robin Cook (heart attack at 59), Norwegian Foreign Minister Johan Jorgen Holst (stroke at 56) and his wife, Dr. Marianne Heiberg, director of UNRWA, UN agency for Palestinian refugees (heart attack at 58), Eritrean Foreign Minster Ali Said Abdela (heart attack at 56), Algerian President Houari Boumediene (rare
Waldenström's macroglobulinemia blood disease at 46), St. Kitts-Nevis Prime Minister Robert Bradshaw (prostate cancer at 61) and his successor Paul Southwell of heart failure at 65, Guinean leftist President Ahmed Sekou Toure while undergoing heart surgery in Cleveland at age 62, Guyana President Forbes Burnham while undergoing routine throat surgery at age 62, Brazilian President-elect Tancredo Neves, age 75, on eve of inauguration of sudden abdominal disease — like Chavez he could never be sworn into office and died a month later with his vice president, Jose Sarney, taking over as acting president — this may be the CIA template for the assassination of Chavez), former Brazilian President Joao Goulart (heart attack at age 57), former Guatemalan President Jacobo Arbenz, drowned in bathtub at age 57), former Chilean President Frei (septicemia while undergoing routine hiatal hernia operation at age 71), Chilean poet and diplomat Pablo Neruda (heart attack, possible poisoning, at 69), Grenada Prime Minister Herbert Blaize (prostate cancer at age 71), Guyana President and former Marxist leader Cheddi Jagan while undergoing heart surgery at Walter Reed Army Hospital in Washington, at age 78), Nigerian President Sani Abacha (heart attack reportedly caused by poisoning after drink laced with poison was provided by prostitutes imported from Dubai), Nigerian opposition leader Moshood Abiola, heart attack at 60, while meeting alone with two U.S. representatives, Thomas Pickering and Susan Rice), Kyrgyz Prime Minister Jumabek Ibraimov (stomach cancer at age 55), Somaliland President Mohammad Ibrahim Egal (while undergoing surgery at South African military hospital age 73), Nauruan President Bernard Dowiyogo (heart attack while dining in Washington, DC, died in surgery at George Washington University Hospital, age 57), Armenian Prime Minister Andranik Margaryan, heart attack, age 55, Zambian President Levy Mwanawasa (stroke at age 59), Turkish President Turgut Ozal, heart attack due to poison in lemonade, 65, Nigerian President Umaru Musa Yar-Adua (pericarditis at age 58), and Malawian President Bingu wa Mutharika, sudden heart attack at 78).
If Hugo Chavez's death uncovers the deep dark secrets of the CIA's bio-murder weaponry and past bio-assassinations, he will not have died in vain.
President Obama has proclaimed himself the final arbiter — in effect judge, jury, prosecutor, and executioner — for non-Americans and Americans around the world. Obama is merely publicly stating what powers recent Presidents of the United States believed they were entitled to and possessed. With such self-appointed powers comes accountability. Anytime anyone of note who has challenged American supremacy dies suddenly or suspiciously or both, the President of the United States is an instant suspect until the facts prove differently.
---
Wikileaks Exposes Unholy Alliance of US Government Bill Gates and Monsanto
Many have long suspected that U.S. policy on genetically modified (GM) organisms was being influenced by the multinational corporations that profit from genetic engineering and the export-oriented agribusiness. However, recently released Wikileaks cables document just how close that relationship has become.
The U.S. Department of State has virtually become an agency for promoting the private interests of the Monsanto Corporation.
As European social movements pressure their governments for an ongoing moratorium on GM seeds and foods, Monsanto and other biotech corporations have been pushing to find new market footholds, using hybrids even in impoverished Haiti following the January 12, 2010 earthquake. They have been pursuing such goals in collaboration with USAID, the U.S. State Department and the Gates Foundation Alliance for a Green Revolution in Africa (AGRA).
According to Netline:
"The collusion of the Gates Foundation with Monsanto corporation is no accident, as high level officials leading AGRA are former Monsanto executives. The recent purchase by AGRA of $500,000 worth in Monsanto stocks was vivid proof of that close relationship. Despite many words by Gates officials since the inception of the AGRA agenda denying that GMO seeds would be used as part of AGRA, their close relationship with Monsanto has now been revealed to be a key element in their agronomic 'new green revolution' strategy."
In the video above, you can also see Gates' wrong-headed ideas about vaccines.
Microsoft founder Bill Gates was recently interviewed by CNN Chief Medical Correspondent Sanjay Gupta. Gates was attending the World Economic Forum to push his mission of eradicating polio by 2012. Gates, through his foundation, has pledged $10 billion to provide vaccinations to children around the world .
In the course of the interview, in regards to the vaccine-autism connection, Gates said:
"… [I]t's an absolute lie that has killed thousands of kids. Because the mothers who heard that lie, many of them didn't have their kids take either pertussis or measles vaccine, and their children are dead today. And so the people who go and engage in those anti-vaccine efforts — you know, they, they kill children. It's a very sad thing, because these vaccines are important."
How can someone so smart also be so confused about this issue? Unfortunately, that may actually be part of the problem.
Bill Gates may be one of the most destructive "do-gooders" on the planet because he is rich enough to get what he wants and he has a high opinion of his own intelligence. It is hard enough fighting Big Pharma, Big Government and Big Medicine on vaccines, but when another opponent is one of the wealthiest and most influential philanthropists in the world, it is even harder.
Fortunately, truth is more powerful than money. It is the only reason that the voices of parents and vaccine injured children continue to be heard above the relentless promotion of lies by the wealthy and powerful.
As I discussed last month, Wikileaks has revealed just how deeply entrenched the US government has become with Monsanto. It's long been known that the government was being unduly influenced, but the leaked cables revealed the reality is far worse than expected; the US Department of State is actively promoting the private interests of Monsanto across the world.

The US Food and Drug Administration (FDA), the US Department of Agriculture (USDA), and the US Trade Representative also have a special set of revolving doors' leading straight to Monsanto, which has allowed this transnational giant to gain such phenomenal influence.

It is this type of government infiltration that allowed genetically modified (GM) alfalfa to be approved without any restrictions at all, despite the protests of the organic community and public comments from a quarter or a million concerned citizens…

As if that's not enough, Monsanto now also has one of the wealthiest and most influential "philanthropists" supporting their agenda and spreading misleading propaganda, namely Bill Gates, the founder of Microsoft.

In addition, in the CNN interview above Gates also muddies the waters with his personal, misguided opinions on vaccines. Between his close ties to Monsanto and his aggressive pro-vaccine stance—without regard for safety on either issue—Gates may just be one of the most destructive "do-gooders" on the planet.
The Close Alliance Between Gates Foundation and Monsanto
As revealed by previous Wikileaks documents, the Bush administration conspired to find ways to retaliate against Europe for refusing to use genetically modified (GM) seeds, mainly by engaging in aggressive trade wars against reluctant nations.

The Guardian recently reported that the "cables show US diplomats working directly for GM companies such as Monsanto." The cables also revealed that the US has worked closely with Spain to persuade the EU to not strengthen their biotechnology laws. In one cable, the embassy in Madrid wrote: "If Spain falls, the rest of Europe will follow."

But it doesn't end there.

As reported by Netline, Monsanto and other biotech companies have collaborated with the Gates Foundation via the Alliance for a Green Revolution in Africa (AGRA) to inject genetically modified crops into Africa. The Gates Foundation has donated hundreds of millions of dollars to AGRA, and in 2006 Robert Horsch was hired for the AGRA project. Horsch was a Monsanto executive for 25 years.

In a previous Huffington Post article, Eric Holt Gimenez sums it up nicely:

"Under the guise of "sustainability" the [Gates] Foundation has been spearheading a multi-billion dollar effort to transform African into a GMO-friendly continent. The public relations flagship for this effort is the Alliance for a Green Revolution in Africa (AGRA), a massive Green Revolution project."

It would be naive at this point to think that these collaborations are designed to solve any other problem than how to help Monsanto monopolize the world's food supply with expensive GM seeds that have to be purchased each year and require expensive chemical treatment.

After all, if you own the rights to all the food grown everywhere, you literally rule the world…

Gates tried to keep his ties to genetically modified seeds on the down-low, but the issue got major attention last year when Monsanto tried to inject its hybrid seeds into Haiti after a massive earthquake devastated the island. Fortunately, the Haitian farmers were too smart to fall for this devious scheme. Farmer groups criticized the Gates Foundation's involvement, committed to burning the GM seed, and called for a march to protest Monsanto's presence in Haiti.

Social movements around the world are pressuring their governments for a moratorium on unproven GM seeds and foods, yet the US is giving Monsanto free reign, aiding and abetting their agenda, and the Gates Foundation is starting to look more and more like just another arm to further Monsanto's reach.
Gates' Financial Conflicts of Interest Sheds Additional Light on his Foundation's Agenda
In the second quarter of 2010, the Gates Foundation purchased 500,000 shares of Monsanto stock with an estimated worth of $23.1 million.

In August of last year, AGRA-Watch wrote:

"The Foundation's direct investment in Monsanto is problematic on two primary levels," said Dr. Phil Bereano, University of Washington Professor Emeritus and recognized expert on genetic engineering.

"First, Monsanto has a history of blatant disregard for the interests and well-being of small farmers around the world, as well as an appalling environmental track record. The strong connections to Monsanto cast serious doubt on the Foundation's heavy funding of agricultural development in Africa and purported goal of alleviating poverty and hunger among small-scale farmers. Second, this investment represents an enormous conflict of interests."

It seems clear that despite the denials that GM seeds would be used as part of AGRA's strategy, the close ties between the Gates Foundation, AGRA, and Monsanto, and the financial conflicts of interest between the Gates Foundation and Monsanto appear to be "a key element of AGRA's "new green revolution" strategy," Netline writes.

"The interlocking and corrupting nature of that agenda as documented further by Wikileaks release of US State Department cables should be of concern to all people of good will concerned about the future biodiversity of crop seeds in the world.

It is an undisputed fact, no matter what one might think of the merits of GMO seeds, that transnational concentration in market share and power inevitably means a diminishing of crop biodiversity, in many cases for all time, as seed varieties are lost in the shuffle. That is the bottom line.

And that is why small-scale farming, based in and loyal to the communities they nourish, must prevail as the model for the future of agriculture! Seeds have always been shared freely among farmers, guaranteeing a biodiverse basis for farming everywhere. Without that basis, there can be no food sovereignty and therefore fewer and fewer practitioners (family farmers) on the ground capable of slowing global warming and feeding the hungry of the world through sustainable land usage and reforestation.

It is our duty, even as community gardeners, to learn how to save seed and to do so. We thus represent the front line primary defense against crop variety loss, famine and pestilence for future generations!"

I agree.

Genetically modified crops represent one of the most significant threats to life on this planet and must be stopped. Unfortunately, there's no shortage of smart men misusing their intelligence. Bill Gates is just one of the most prominent in this group.
How Could Bill Gates Be so Confused About Vaccines?
Moving on to the second topic of this comment: Gates' vaccine opinions. It is very difficult to watch Bill Gates "speak out" about vaccines, knowing he's directly responsible for using his considerable wealth and influence to advance one-size-fits all vaccine policies that lack good science to back them up.

However, if you're savvy to the way this game is played, you'll realize that the absolute and derogatory terms he uses to defend his actions—such as labeling vaccine safety advocates as "baby killers"—actually reveals the level of pressure and mounting panic the vaccine industry is feeling right now.

They're definitely worried, or else they wouldn't have to resort to using people like Bill Gates to label you a killer if you question vaccine safety or want to make voluntary vaccine choices, in an effort to shame or scare you back in line.

He also spouts off the same tired propaganda speech about how Dr. Andrew Wakefield is somehow singularly responsible for creating mass-hysteria about the link between vaccines and developmental delays, including autism. This is beyond simplistic, and does in no way describe the truth about the problems with poor science being used to pass laws requiring everyone to use more and more vaccines that are both unsafe and ineffective. Anyone who has read even a fraction of my articles on vaccines will see that trying to hinge the entire anti-vaccine movement on the results of one study published in one medical journal is ridiculous.

The consolation is that the awful truth is more powerful than Gates ill-conceived attempts at quenching safety advocates.

But what's his motivation for promoting vaccines, you may ask?

Well, you have to remember that years ago, when the US government slammed Microsoft with anti-trust violations, he and his wife, Melinda, soon thereafter created their foundation and partnered with the US Department of Health and Human Services and the pharmaceutical industry to "save" the children of the world from infectious diseases—through the use of vaccines.

It appears as though, in return for a slap on the wrist, Gates was roped into the vaccine-promoting business, which likely explains why he would make such appalling statements against those who have valid and significant concerns about the safety of vaccines.

However, in the end, truth is more powerful than money. This is the reason why the National Vaccine Information Center (NVIC) is still in operation and why my voice and the many voices of parents of vaccine-injured children continue to be heard above the relentless promotion of lies by the wealthy and powerful.

We have our work cut out for us, both in the fight against the dangerous promotion of genetically modified food crops and the mass-use of vaccines without proper safety evaluations. But sanity and reason can still win, through the propagation and dissemination of information. Below I'll provide helpful guidance for avoiding both GM foods and unwanted vaccines.
How You Can Avoid GM Foods, and Help Others Do the Same
I urge you to print out and use the Non-GMO Shopping Guide, created by the Institute for Responsible Technology. Share it with your friends and family, and post it to your social networks. You can also download a free iPhone application, available in the iTunes store. You can find it by searching for ShopNoGMO in the applications.

If you're feeling really ambitious you can order the Non-GMO Shopping Tips brochure in bulk and distribute them to the grocery stores in your area. Talk to the owner or manager and get permission to post them in their store.

For more information, I highly recommend reading the following two books, authored by Jeffrey Smith, the executive director of the Institute for Responsible Technology:

Seeds of Deception: Exposing Industry and Government Lies about the Safety of the Genetically Engineered Foods You're Eating

There are also a number of great films and lectures available, including:

For timely updates, join the Non-GMO Project on Facebook, or follow them on Twitter.

Please, do your homework. Together, we as consumers have the power to stop the biotech industry from destroying our food supply, the future of our children, and the earth as a whole. All we need is about five percent of consumers to simply stop buying GM foods, and the food industry would have to reconsider their source of ingredients.
Do Your Homework Before Vaccinating for Anything
Personally, I'm not anti-vaccine but rather pro-education and pro-vaccine safety. I also believe it is extremely important to have the right to choose preventive health options and to be allowed to exercise informed consent to taking ANY medical risk, including making voluntary decisions about what you want to inject into your child, and yourself, and when.

If you choose to vaccinate selectively, you don't have to reject use of all vaccines. You have a number of options, one of which is use a more sensible vaccination schedule—one that will not subject your child to multiple vaccines simultaneously, or in quick succession, as a newborn.

Dr. Donald Miller is a cardiac surgeon and Professor of Surgery at the University of Washington in Seattle and a member of Doctors for Disaster Preparedness. Using a more sensible, "user-friendly" vaccination schedule, Dr. Miller advises the following:

No vaccinations until your child is two years old.
No vaccines that contain thimerosal (mercury).
No live virus vaccines.

Dr. Miller used to advise giving inactivated polio vaccine and inactivated bacterial vaccines like pertusis, tetanus and diphteria in separate shots, but, unfortunately, the drug companies selling vaccines no longer make separate vaccines available. The pertussis, tetanus and diphteria vaccines today only come in the form of combination shots like DTaP and DT for younger children, or Tdap and Td for teens and adults.

Dr. Bob Sears, a California pediatrician and author of The Vaccine Book, supports informed consent and selective vaccine choices. He offers a roadmap for those who choose to vaccinate their children using an alternative vaccination schedule that includes spacing vaccines out over a longer period of time.

Your pediatrician will probably not agree with this schedule, but if you have reviewed the evidence and still feel your child should be given some vaccines, it could be a far safer alternative to the standard vaccination schedule.

Also remember your opt-out options. Although all 50 states have vaccination requirements, all states provide exemptions for medical reasons, and 48 states allow exemptions for sincerely held religious beliefs. Another 18 states allow parents to opt out for personal, conscientious or philosophical beliefs as well.

For more information, please see How to Legally Avoid Unwanted Immunizations of All Kinds.

Above all, educate yourself on the risks and complications of the vaccines that your doctor or pediatrician insists on administering., as well as the vaccine laws in your state. I have hundreds of articles detailing the dangers of various vaccines on this site, and you also have the entire internet at your disposal.

One of your most valuable allies on the net is the National Vaccine Information Center (NVIC)—the American vaccine safety watchdog. Their site contains loads of carefully researched, accurate information about vaccines, along with late-breaking news relating to laws, mandates, recalls, safety issues and more.

In some states, legal exemptions for vaccination, such as the religious and personal or conscientious belief exemptions are under attack and being targeted for elimination by drug companies and other special interest groups lobbying state legislators. Please sign up for the NVIC free Advocacy Portal and stay tuned into to what is happening in YOUR state and if you need to take action now to protect your legal right to make voluntary choices about vaccination for yourself and your children.

---

– Dr. Ahmed Kalebi
Uganda-based Lancet pathology research group's director for East Africa
(where it was discovered by the pro-eugenics Rockefeller Foundation)

Why choose Zika to disguise the gene-engineering that causes microcephaly? Because the Zika virus is structurally similar to the widespread dengue fever, now pervasive in developing nations with high birth rates. Zika virus is rapidly spread through human contact and not just mosquitoes, allowing the "preventative strategy" of a gene-suppressing protein to be transferred by mosquitoes to humans in dengue-infested zones.

Zika does not cause fatalities, limiting the economic impact, while remaining narrowly focused against newborns. Unless the Oxytec program is halted, the result will be a dramatic decline in birth rates before 2050, when the global population based on current trends is predicted to reach 10 billion.

The corporate elites and population planners launched the Great Cull in 2015, and by now thousands of infants are probably being maimed in the womb or tragically miscarried.

The sponsors of this ongoing genocide, however, were caught red-handed. Frantically rolling out misdirection and outright lies, the malpractitioners at WHO are panicked by online exposures of the Zika fraud and also by a simultaneous statement from the Director of National Intelligence (DNI) James Clapper warning of the emergent threat of gene-editing as a weapon of mass destruction.

Gene warfare has been unloosed and even the highest level of the U.S. security establishment cannot put the genie back into the test tube.

The publicity machine at the World Health Organization (WHO) is unloosing cover-fire to help the Oxitec biowarriors evade detection after releasing their gene-transfer bioweapon under the camouflage of a Zika virus outbreak across Latin America. Corrupted by grants and job offers from partners Gates Foundation and Wellcome Trust, the WHO directors and executive staff responded to this outbreak by calling for yet another round of vaccine development.

Even though their past vaccination trials proved to be dismal failures, the pharmaco-addicted bureaucrats in Geneva are eager to waste more scarce funding diverted from basic public health programs in order to perpetrate a cover-up of their role in promoting gene-based warfare.

WHO is further implicated in its providing a grant to Oxytec, which developed the method of inserting the RIDL protein that triggers the "death gene" in embryos. The Oxford-based gene-engineering lab, whose parent company is owned by CIA-linked equity partners, inserts a bio-agent via mosquitoes into humans.

Inserted bio-agent blocks the GATA gene, which produces proteins that are essential to infant development of the brain, nerves, eyes, heart and blood vessels. RIDL stands for Release of Insects carrying a dominant lethal, the latter being a protein that blocks the GATA gene functions.

This bioweapon is the actual cause of microcephaly while the Zika virus is touted as the culprit, a big lie wheeled out by the WHO, Centers for Disease Control and Prevention (CDC) and National Institutes of Health (NIH).

Attack on Women's Reproductive Health

The plan for this clandestine war on the global population was methodically charted out with Powerpoint bullets. As exposed in Part 1 of this series, the gene-warfare program is build on six steps:

– first, identifying "enemy societies" affected by dengue fever-carrier mosquitoes;
– second, introducing Zika-carrier mosquitoes during field trials for "suppression of dengue";
– release of bioagent-carrier male mosquitoes to transfer the RIDL bio-agent into wild females;
– then female mosquitoes pass on RIDL in their saliva during blood-feeding on humans;
– false attribution of microcephaly in babies to Zika's neurological effects; and
– human-to-human spread of Zika and RIDL via saliva, coughing and sexual transmission.

Target Americas

History is an archive of extermination campaigns against peoples of the Americas by the mercantile elites of Iberian colonialism and U.S. power in the service of British imperialism. Unimaginably cruel methods of genocide-complicit medical doctors, biologists and anthropologists range from donating cholera-infected blankets charitably to Plains Indians to today's deployment of a bio-agent to maim thousands of infants yet to born.

The present biowarfare program fits every criteria of genocide under international law, since its objectives are stark and direct:
– destabilizing nationalist-run economies to enable Western corporate takeover;
– population reduction of undesirables and malcontents wherever high birth rates prevail; and
– thereby eliminating the demographic support base for populist insurgent movements

As part of gene-transfer genocide, the following countries were targeted for political and economic reasons:

– BRICS, with Brazil as the initial target, to be followed with plans to release the RIDL "death gene" against India and China;

– The ALBA group, based on Simon Bolivar's principles of regional sovereignty, especially ZIKA-affected Bolivia, Venezuela, Nicaragua and Ecuador;

– Insurgent-controlled areas including the Zapatista stronghold in Chiapas state of Mexico, and rural regions of Colombia held by the FARC militia;

– Independence-cherishing ASEAN nations Malaysia, Cambodia and Thailand;

– Puerto Rico, a U.S.-occupied island perceived by Washington bureaucrats as a welfare-burden; and Jamaica, a constant target of U.S.-British black ops since the gunning down of Peter Tosh and the release of a top-secret pathogen that brought about Bob Marley's early death in Miami, Florida.

Bad Medicine

Here in a follow-up to the first breakthrough essay in this series, Part 2 uncovers more layers in this genocidal operation and outing medical felons who evaded our first sweep of suspects.

– The veterinary lab at University of Wisconsin Madison, under the maniacal super-flu researcher Yoshihiro Kawaoka, has been quietly doing mosquito-borne virus research in Colombia, including the Zika strain;

– Oxitec funder Asia Pacific Capital, a Hong Kong-based investment fund controlled by General Electric (GE) Capital, which is ramping up sales of medical technology and financiing of agribusiness interests in Latin America, Southeast Asia, India and China.

– A supposedly "ecological" anti-pesticide group at the University of Buenos Aires, a prime center for genetic science and biotechnology, which has audaciously tried to shift culpability away from Oxitec with a "genewash" campaign of misdirection.

This essay concludes with a summary of the political shifts in the U.S. defense research sector that led to the spillover of gene-based biowarfare into commercialization by university spin-off companies and agribusiness corporations, whose international operations can now easily evade the U.S. Bioterrorism Act of 2002.

Alarmed by arrivals of ZIKA-infected illegal immigrants and its spread through human body fluids, the DNI is trying to round up the runaway horses long after they've escaped the corral.

Planet of the Apes

The reigning Caesar of Virology who "perfected" the lethality of the flu virus is seriously considered by some of his critics and colleagues as a pathological maniac who should be locked up inside a high-security prison.

Now with disclosure of his associates' field research in Colombia and Brazil, the animal lab at University of Wisconsin Madison is flexing beyond an urban myth into a juggernaut of global biowarfare.

With the global threat of microcephaly unloosed on a defenseless humanity, Dr. Kawaoka must be doing a victory dance with his army of rhesus monkeys.

Here's the great news from the ape lab: "Working with the Zika virus from the original 1947 discovery in Africa and from the ongoing South American outbreak, provided by UW-Madison, Jorge Osorio, a professor of pathobiological sciences at the UW School of Veterinary Medicine (SVM), and Matthew Aliota, a research scientist at the SVM, were first to identify Zika virus circulating in Colombia in October."

So the first Zika virus sample discovered by the pro-eugenics Rockefeller Institute just happened to be lurking inside Kawaoka's beer cooler along with a six-pack of Old Milwaukee lager.

Another member of Kawaoka's crew in Colombia "Ted Golos, professor of obstetrics and comparative biosciences, studies how other infections during pregnancy impact newborn health. The research group has extensive experience with viruses in humans and nonhuman primates, such as HIV and influenza, and their work will be conducted in secure facilities designed for the safe study of potentially harmful viruses.

That planning will soon culminate in some of the first experiments studying Zika virus in monkeys, conducted by a broad UW–Madison team that includes the Wisconsin National Primate Research Center and expertise in infectious disease, pregnancy and neurology."

In the same time-frame, UW-Madison posted pathologist David O'Conner in Brazil, looking into "the babies born with underdeveloped brains and small heads (who) were the relatively quiet beginning of worry over the spread of Zika virus."

Just how astronomical are the odds for University of Wisconsin to have its professors in outbreak centers Brazil and Colombia, in October, the busiest month for teaching in the fall semester? The wager collapses with a peek into the resumes of his researchers:

– Jorge Osorio, veteran of the U.S. Army biowar lab AMRIID; former professor at Colorado State University at Fort Collins, location of the CDC insect-borne disease lab involved in the first modern Zika outbreak in Yap; senior scientist at Inviragen now conducting trials on a dengue vaccine;

– Matthew Aliota, assistant to Osorio, appointed as a Biodefense fellow at the Wadsworth Center for New York State Health Department's biodefense program in cooperation with the NIH and Homeland Security;

– Thaddeus Golos, endocrinologist and a primate laboratory director who did NIH studies on maternal-fetal interface in Listeria (bacteria) induced pregnancy loss (miscarriages) and expert in transgenic stem cell research.

All the required skills for the Brazilian microcephaly surge were pre-positioned and forward-based in Latin America, at a time when professors at one of the Big Ten state universities were supposed to be teaching class.

O'Connor fired a warning shot across the bow, saying: "The more hyperbolic the media coverage is, the more it gets repeated, reposted, retweeted. The key message is that we don't know a lot."

Yes, sir. Let's translate that into simianese: Remember you lowlife humans, the rules on Planet of the Apes are simple: "See no evil, hear no evil, speak no evil. Hail Caesar!"

Don't Cry for Me, Argentina

Out of the endless sea of pampas grass came a forlorn call for fairness instead of assigning blame on the maligned British researchers from Oxford. The gaucho sang a catchy tune: the real perpetrator behind the Brazilian microcephaly surge is an evil Japanese chemical company that sprayed a growth disrupter called pyriproxifen over populated Brazilian towns.

Nobody should ever doubt that Sumitomo Chemical is a violator of public health, which started right at its inception in the 19th century as a copper mining monopoly that poisoned vast swathes across northeast Japan, leading to untold numbers of deaths and injuries. Its horrific past record and massive fraud in copper trading, however, do not automatically prove that Sumitomo is guilty of causing microcephaly.

On February 9 this year, a public-health advocacy group that calls itself Argentine Physicians against Crop-spraying of Towns issued a statement charging that the cause of Brazilian microcephaly is the use of pyriproxyfen as an agro-chemical insecticide.

"Since the second half of 2014, the Brazilian Ministry of Health stopped using temephos (an organophosphate agrotoxic to which Aedes larvae became resistant) as a larvicide, massively incorporating the poison pyroproxyfen, commercially known as Sumilarv and manufactured by Sumitomo Chemical, a Japanese company associated to or subsidiary of Monsanto in Latin America."

To clarify distinctions among these criminal corporations, Monsanto is not a major promoter of pyriproxifen. The Sumitomo-Monsanto accord is based in glyphosate-based Roundup Ready, a most-certain hazard to health and the environment.

The two companies are not partnered in pyriproxyfen. In fact, there is no patent on pyriproxyfen, which is also marketed by Bayer, Syngenta and dozens of pesticide producers in China.

"This poison (pyriproxifen), recommended by the WHO, is a growth inhibitor of mosquito larvae, which alters the development process larva-pupa-adult, thus generating malformations in developing mosquitoes and causing their death or incapacity."

Correct on this point. Next, the giant leap of logic.

"Malformations detected in thousands of children from pregnant women living in areas where the Brazilian state added pyriproxyfen to drinking water is not a coincidence, even though the Ministry of Health places a direct blame on Zika virus for this damage, while trying to ignore its responsibility and ruling out the hypothesis of direct and cumulative chemical damage."

This accusation is absolute nonsense and patently false, an apparent attempt to divert attention from Oxytec's RIDL-carrier mosquito releases, which began in 2011.

– The spraying of pyriproxyfen in Brazil began in the third quarter of 2014, much too late to account for the mycocephaly surge. The low-dosage pesticide would require repeated exposure over long periods to affect humans and domesticated animals, if at all.
– The surge in microcephaly cases began in 2012 and peaked in early 2015, according to the major Brazilian medical study "Microcephaly in northeastern Brazil: a review of 16,208 births between 2012 and 2015" (Soares de Araújo, Regis, Gomes, Tavares, Rocha dos Santos, Assunção, et al.

The New Green is Genewash

Pyriproxyfen is already widely used as the active ingredient in newer types of flea power. Sergeant and other pet-suppliers switched to pyriproxyfen in the wake of complaints against previous flea-killing compounds, particularly organophosphate nerve agents imidacloprid, arylheterocycles and selamectin.

Yet another spurious claim from the Argentine doctors group is: "Malformations detected in thousands of children from pregnant women living in areas where the Brazilian state added pyriproxyfen to drinking water is not a coincidence, even though the Ministry of Health places a direct blame on Zika virus for this damage."

Sumitomo has developed a slow-release dispenser for open water jugs used by rural households, but sales are awaiting approval from the WHO and FAO (Food and Agriculture Organization). Sumitomo Chemicals conducted most of its open-field research on pyriproxifen in Sri Lanka, where there are no reports of a notable increase in microcephaly or onset of a Zika virus outbreak.

In the same breath, the Argentine doctors "gene-washed" Oxytec's role in the microcephaly catastrope. "Currently in Brazil nearly 15 million GM mosquitoes have been released, and the failure is complete. Where field tests were carried out, less than 15 percent of larvae were transgenic, that is to sat wild females are not accepting the English mosquito from Oxitec."

To correct the doctors' confusion about the efficiency rate in mating, 15 percent of the affected larvae survived, and not 85 percent as claimed. Can one detect a tone of hurt Latin machismo in the put-down of English males? Cool it, physicians, Brit blokes can't tango so why get testy?

Crop-spraying is a horrible practice, since there are safer methods for suppressing mosquitoes than bombing swamps with pesticides. Other than praising "community-based methods", Argentine Physicians against Crop-Spraying are not offering any practical solutions for rural villagers and townspeople.

The Argentine Physicians group is based at the University of Buenos Aires (UBA), which is the biggest promoter of genetic engineering in Latin America. The microbiology, agronomy, veterinarian science and medical departments cooperate in advanced genetic research with the WHO, CDC and NIH.

Whatever romantic image foreigners may harbor, Latin Americans share the Spanish enthusiasm for Cartesian linear rationality, in the guise of molecular biology, on campus and in restaurant kitchens like El Bulli, engineer of the artificial egg.

Similar unproven claims by Argentine Physicians leader, Dr. Medardo Ávila Vazquez, a UBA graduate, reportedly led to strong criticism from the faculty of University of Cordoba.

A petition against his skeptical critics at Cordoba University was signed by more than two dozen British and American molecular biologists at an April 2015 food security forum in Yunnan, China.

The only reference document available, however, was in Spanish, meaning the grounds for judgment were based on Aliva's version of the dispute rather a balanced review of the facts.

In his favor, Dr. Avila has rightly linked the massive spraying of pesticides to the increased prevalence of cancer in rural regions of Argentina, but his crusader mentality has failed to properly assess the emerging threat of gene-transfer strategies.

While many more people, including unborn infants, are being routinely killed or maimed by pesticides, including Monsanto's glyphosate, than by gene-suppression, the relative threat is not simply based in the body count.

Distorted rates of population growth have revived the sort of thinking formerly associated with eugenics, the medical program of racial selection in birth rates.

The imbalance between the advanced economies of the North and the tropical societies in underdeveloped South is approaching the symbolic milestone of a world population of 10 billion.

Covert attempts to deploy biotech-based population reduction are bound to backfire, as is already happened in the Brazil microcephaly case. Triggering a global race war is suicidal for the West.

Media exposure and academic condemnation of this disturbing Oxitec case is needed to open a new round of dialogue with leaders of the Catholic church and the major branches of Islam.

Repeating the imperative to procreate in polygamy from a past millennium is not faith, it is sheer stupidity.

Biological warfare will only add to the coming disastrous death toll from famine, epidemic, deprivation and poverty. Population-reduction freaks like Bill Gates are certainly genocide-minded felons, but religious clerics who refuse to accept the needs of their impoverished followers bear an equal share of moral guilt.

A serious discourse on the so-called population bomb is sorely needed. With the arrival of gene-engineered destruction of ovaries and embryos, humanity is staring into the abyss.

General Electric Moves onto Agribusiness Finance

By coincidence, the head of General Electric in Latin America, Alejandro Bottan, is also a graduate of University of Buenos Aires, yet one more disgrace heaped on the alma mater of Bolivian revolutionary martyr Dr, Ernesto Guevara, better known as "Che".

In 2012, Oxitec signed a partnership deal with Asia Pacific Capital (Hong Kong), a front for GE Capital to tap into China money. The accord was aimed at promoting Oxitec across Asia and Latin America, including Brazil and Argentina, along with India, China and Southeast Asia.

General Electric is positioned in the Argentine energy, health care and large-scale lending to agribusiness in Latin America.

Gage McAfee, managing director of Asia Pacific Capital, said: "Asia Pacific Capital focuses on the 'Asian Tiger' economies of China and India, where insect-borne infections and food security are increasing problems with serious economic consequences."

The India partner-company of Oxitec is Gangabishan Bhikulal Investment and Trading Limited (GBIT) headed by Badrinarayan Ramulal (B.R.) Barwale, a businessman who founded the subcontinent's hybrid seed industry.

Considered one of the pioneers of the "Green Revolution" in Asian agriculture, Barwale got his start as a protege of the Rockefeller Foundation and American geneticist Norman Borlaug, who created the concept of "food as a weapon" against the regional spread of agrarian nationalism.

Besides bypassing the heritage seed collections of local farmers, the Green Revolution promoted the use of expensive chemical fertilizers, pesticides and herbicides, the cost of which bankrupted millions of Asian farmers while enriching the chemical industry, farm machinery suppliers and the money lenders.

Even more aggressive industrialization of agronomy and animal husbandry has displaced family farmers and destroyed forests across Latin American, which is now a monoculture factory plantation of soybeans and corn for ethanol fuel.

As Dr. Avila of Argentine Physicians against Crop-Spraying has correctly pointed out, the contamination of land, crops and water supplies by chemical spraying, with the loss of ecosystems, has become a major driver of cancer and promoter of other diseases.

Instead of reversing this exploitative trend, agribusiness and the sold-out medical authorities are adding a new lethal layer, with the introduction of gene-transfer methods.

Even Monsanto is joining the gene-suppression bandwagon with its purely semantic declaration of ending genetic modification (GM defined as older methods of gene-insertion) within two decades.

Who Let the Dogs Out?

Designers of Outlaw Gene Science, the pit bulls of molecular biology, are off the leash due to shifts in White House medical-research policy, especially at the Health and Human Services Department.

Preliminary work on the Zika and gene-insertion in mosquitoes, covertly tested in the 2007 Yap outbreak were conducted during the administration of George W. Bush and his second-term Health and Human Services Secretary Mike Leavitt.

A Mormon from Utah who voiced support for polygamy as a "religious freedom", Leavitt had served as a former staffer with Sen. Orrin Hatch and served on the Homeland Security Advisory Council following the post-911 anthrax letters scare.

Leavitt's term at HHS coincided with the Asian avian influenza outbreak. He called bird flu the most serious threat to American security, putting himself into a working relationship with the WHO.

He routinely used a 14-seat CDC airplane as his private jet, an intriguing point due to his security focus on pathogens since the aircraft gave him carte blanche to travel to smaller airports near isolated research labs.

Leavitt's keen interest in biotech is probably related to the presence of the US Army's Dugway Proving Ground in Utah, the postwar home base of Japan's notorious Unit 731 bioweapons group.

Militaristic methods and murderous endings overshadowed biological research in the lae Bush era, as demonstrated by the violent death of British microbiologist Dr. David Kelly.

As stated by a microbiologist in exile who has done research for CDC, NIH and DOD, the Bush Health Department would have "locked me inside a top-secret lab and I would have never been heard from again. They want me for the Iraq situation."

Leavitt was described as "Mitt Romney's government-in-waiting", putting him on the outs after Obama's inauguration in January 2009. The incoming Health Secretary Kathleen Sebelius initiated a gradual process of ridding the government labs of its biowarfare fixation.

Over the next 18 months, it was safe for microbiologists in exile to come home to the USA, while the most compromised bioweapons researchers retreated to military-run labs or moved en masse into the private sector, where they were sustained with grants from neocon bureaucrats and private sources like the Gates Foundation, the major pharmaceuticals Pfizer and GlaxoSmithKline, and the new Walmart Foundation.

This exodus of biowarriors explains how gene-interference technology for dengue and Zika virus was transferred secretly and probably illegally from CDC-VBD Colorado and NIH to the Oxford and Pirbright Institute's commercial spinoff Oxitec, where it was safe and secure from investigation by U.S. counter-proliferation officials.

At the start of Obama's second term, Sebelius was ousted at Health and Human Services. Her replacement was Sylvia Mathews Burwell, head of the Walmart Foundation and former president of the Global Program of the Bill and Melinda Gates Foundation. She earlier served with the Washington State Medicine Board, the Aspen Institute and the Nike Foundation. She graduated cum laude from Harvard and was a Rhodes scholar.

A look at these bureaucratic turf wars help to decipher Director of National Intelligence Clapper's concerns about gene-editing as a weapon of mass destruction.

America's once centrally administered biological warfare research establishment has split apart into different camps – the most cynical Bush-era biowarriors moving on to foreign labs or hidden in the pharmaceuticals and biotech industry; others posted inside obscure corners of the US military and its spin-off companies; and younger microbiologists trained under the Bush bunch being regrouped in Health and Human Services or channeled into CDC, NIH and major research hospitals. Even the most powerful intelligence official does not have control over these dispersed elements and cannot trust his own chain of command.

Gene warfare was unloosed on Brazil by pharmaceuticals and foundations with larger financial resources than the federal government, and the intelligence community is trying to catch up with the perpetrators.

With presidential elections on the near horizon, bio-security is starting too late. While Oxitec could take the fall for mass destruction of Brazil's next generation, the biowarriors are likely going to make a comeback in 2017, unless the next president takes an ethical stance in support of public health and overhauls the gamut of bioweapons development. Don't hold your breath unless someone nearby sneezes.

Yoichi Shimatsu, an Asia-based science writer, led a public health information team of microbiologists and toxicologists during the SARS outbreak and Asian avian influenza pandemic.

http://www.rense.com/general96/genewash.html

---

Back in 2004 a European intelligence service commissioned some due diligence work on the activities of Bechtel National and the Technology Management Company, TMC, in Georgia and the region. The then-confidential report on these was written by, and payment made to, one of the contributions to this article, Jeffrey Silverman, who during his career was once stationed at a military storage site for chemical weapons in the US.

This report was forgotten until recently. Then it became known that Technology Management Co. Inc. had won part of a $975 million federal contract for small businesses offered by the U.S. Air Combat Command Joint Base at Langley-Eustis, Virginia, for companies providing counter-narcotics and global threats operational and logistical support. TMC Global Professional Services was eligible for this because it claims that it provides engineering and construction management services, to governmental and commercial clients in Central Asia, the former Soviet Union and internationally.

The task of the due diligence in 2004 had been to find out who the researchers involved in the Bechtel and TMC programmes were; their countries of origin, qualifications, etc. Whilst investigating this Silverman discovered that TMC had close and often covert, relations with an array of civilian and military structures, having little ostensible connection with science, He compiled a list of names, addresses and telephone numbers of these. When its staff's qualifications were analysed under various criteria (what kind of science backgrounds they had, what relations they had with other research centres etcetera) they were seen to have limited scientific credibility, but more significant experience as military intelligence operatives, thus demonstrating that TMC and Bechtel were in the intelligence business, not the scientific research and human health business they claimed to be part of.

So are we to believe that TMC has now won a big US government contract by fair and transparent means, and that the "operational and logistical support" it will henceforth be providing is really designed to counter the narcotics trade and global threats? There is little evidence to support that; I beg to differ. If Bechtel and TMC had changed their spots, they would have been reorganised to rid themselves of their pasts, but this has never happened. On the contrary, they have become ever more involved in the murky business they long ago made Georgia the regional headquarters for.

Their history is already well-documented in other activities; for instance, how TMC has subcontracted out work over the years. One company, Eren Grou, is the Turkish builder. As one source described, Dr. Eren is a really nice guy; had two children going to university in USA. You know how things work; "They hired locals and had Turkish 'masters' and well, the quality wasn't good. The Lugar lab costs over $12M a year to operate; the Georgian government can't even afford that. The cost factor confirms that it is the US government that is footing the bill, and this lab is not under the control of the Government of Georgia, as claimed in media reports."

DTRA's Tar Babies

Earlier this year a series of articles appeared about the death of a foreign contract worker at the Richard E. Lugar Center in Tbilisi. This centre is officially listed a "scientific research institute," but is actually a biological weapons development lab built by Bechtel and Turkish contractors and run by the US Department of Defense.

There is lots of history here; for instance, Bechtel got a "bad grade" from DTRA. This was Bechtel's very first BSL project ever. Now the next company involved, TMC, is charging millions to redesign and rebuild the mechanical systems. $100M wasn't enough. Bechtel has long had close ties inside the deep-state American government. From 1974 to 1982 George Schultz, former United States Secretary of Treasury and future Secretary of State, was president and director. The late former U.S. Secretary of Defense Caspar Weinberger was general counsel for Bechtel in the late 1970s. Former Deputy Secretary of Energy W. Kenneth Davis was Bechtel's vice-president. Riley Bechtel, the company's chair, was on President George W. Bush's Export Council. Jack Sheehan, a former senior vice-president of Bechtel, was a member of the U.S. Defense Policy Board. The Clinton Administration also appointed senior Bechtel managers to senior Administration positions.

Sources claim that money was also siphoned off was via Global Services,"which did the landscaping, irrigation system, grass, trees, moved the portable buildings and guard shacks. http://www.globalservice.com.ge They later … Global Services, did some last minute steel platform installation and welding in the mechanical rooms so the maintenance men can access equipment. They were not very important to the project. They might had have built the fence too, but I don't know for sure. Regardless, TMC was brought in to load the job with local workers.

Another option, if you believe in conspiracy theories, is the fact that this mechanism is a convenient way to funnel money into Georgia for various hidden agendas, political, military and these can extend to regional maneuvers. The deaths of contract workers had been kept secret by Georgian intelligence. Apparently they displayed all the symptoms of someone affected by Sarin gas poisoning. As we know, Sarin gas was used in the false flag attack in Syria conducted by the US but blamed in Assad's forces. Members of Georgia's intelligence agencies, working with Ukrainian extremists, Turkish intelligence and al Qaeda and with cooperation from NATO, had shipped chemical weapons, including Sarin gas and its needed precursors, through Turkey into Syria prior to the attack.

The dead men in Georgia were not the only ones affected by the work of the Lugar lab. The landlords of properties rented by other lab workers have since reported that their renters all got sick and were sent home, and a number of civilian residents living near the block have been hospitalised when noxious fumes or infections being emitted from the lab have come through their ventilation ducts. As Georgian investigative journalist Shorena Tsivkarashvili described two months ago, "Our respondent said that he knew some more facts about the lab, claiming that some lab employees were poisoned 4 years ago as well. Unfortunately two of them died. This person asked to remain anonymous for the purpose of the investigation."

"I live across from the laboratory, and several years ago four workers from the laboratory were living in our block. They appeared to be of Asian descent. I don't know what was going on in the laboratory, but I can tell you what I saw with my own eyes. All of them had health-related problems. Their neighbours were constantly calling for the ambulance. Once I saw all of them lying unconscious. Foam was spewing from their mouths. We immediately called the doctor, but two of them died. Journalists and representatives of the Georgian Ministry of Internal Affairs took an interest in what had happened, but nobody covered this case in spite of the deaths, as they had been threatened by Georgian Security. 

Partly as a result of all this, the areas which produce deadly fumes are only open to American staff. Contract workers and locals can no longer go there, whatever their job descriptions might say.

The Lugar Research centre produces no known peer review clinical research papers, and has not stopped strange viruses and other infections suddenly from emerging in livestock and the Georgian population, as it was allegedly set up to do. Rather, it has overseen a number of unexplained and deadly local spikes in some very dangerous diseases, such as hepatitis and new flu strains. So either it is a colossal waste of US government money, which the Office of Management and Budget should ensure be closed down, or it is serving valuable military purposes which involve producing biological agents rather than improving public and animal health.

Over ten years ago Bechtel National, which built the Richard E. Lugar Centre in its role as a Department of Defense contractor, signed a deal on biological non-proliferation with the Georgian branch of TMC. Why would such an agreement be necessary unless the facility were designed to house biological agents? But of course this is only the required US paperwork – agreements in Georgia are only valid if you have the power to enforce them, and this heavily-guarded building cannot be held accountable by any Georgian government or agency for as long as influential people in the US sponsor it.

On site and off message

On December 13, 2015 a person connected with US Naval Intelligence contacted Jeffrey Silverman and said, "I notice you are very familiar with the Lugar Center in Tbilisi. If you have time I would love to speak with you about it."

Silverman replied: "Yes, I know a few things about the lab and have written a few articles as well.  It is part of a larger bio weapons project. I can help you understand what you may already know, mostly on the university side and concerning Fort Dix in Maryland and the CDC in Atlanta, Georgia. There is no doubt in my mind that the projects in Georgia have a military application, e.g. bio warfare.

"Apparently what is going on in Tbilisi is the next stage of dealing with the natives in the Middle East, as we are running out of proxy terrorists. We definitely don't have enough boots on the ground ourselves. Let's not forget all the articles over the years, and the press releases claiming that the Lugar Lab in Tbilisi Georgia will not be involved in carrying out bio weapons research."

According to Silverman's notes, the conversation continued like this:

Intelligence Officer: What does Technology Management Corporation have to do with all this? I thought they were just doing interpreting work?

Silverman: My ass, who in the hell told you that?

Intelligence officer: Just my research 

Silverman: "I would have to dig out the questions that a European intelligence service provided me years ago. You will see that TMC is more than that. There are links to Evergreen University. Also, look at the links to Eliava Institute and the bio phage – that too is part of the US covert bio weapons programme."

Intelligence Officer: "Yeah." (This conversation is highly technical, so this chatty "Yeah" seems too colloquial.

Silverman: "B the way it [the Lugar Lab] can't actually function because it has gone 2-2.5 times over the original budget. To start with, the [part which requires] BSL-3 [clearance] has never worked, and thus only the second floor BSL-2 part is functioning. More money is being pumped in to remediate, remodel and repair the system, and so theoretically the lab does not even have a simple flu virus in it.

"It has two sources of electricity: the airport feed and the city feed, and huge backup generators. Double redundancy fans on all systems, plus the fans for the bio hoods, should make it damn near impossible for bad stuff to get out of the bio hoods. But I know people living there, and they are being kept in the dark as what is being constructed near their homes. I know one journalist who was attacked at home on the same day he visited the facility and tried to find information. Are they hiding that the lab is a big f-up, or its real purpose, or both?

"I have taught English in close proximity to it, and have interviewed my students, which is better than trying to get direct information from the management or public affairs officer of the US Embassy.

"As one source wrote in 2012," "I can tell you that it will be at least two more years before any heebie jeebies arrive, when it actually functions." … I asked what was meant by "heebie jeebies" and was told, "Different bio agents, stuff that kills us and we don't even need to breathe or touch it.

"When TMC came to Georgia it was presented as a legal company which would hire locals for its projects. However, that soon proved not to be the case, as Bechtel brought over their six-figure Americans. TMC works side-by-side with it, and now has a five-year contract to keep bringing in Americans at the expense of Georgia.

"Anyone interested in this lab must realise that it was never built to be occupied or operated by Georgia. It is now clear that there were some flu deaths in Tbilisi this year, all alleged to have a direct link with bio research in Georgia.

"I advise you to keep close records, as sooner rather than later there is going to be a new international scandal related to the lab and some of the Americans connected to it; there are also links with Turkish intelligence."

Intelligence Officer: "That's interesting – so you think that these deaths were directly related to the Lugar Center?"

Silverman: "Here are some old notes from an email some years ago; I am not an expert in forensic science, but apparently the Caucasus region is an ideal location if the United States would wish to outsource its 'grey zone' research. Many of the most 'attractive' viruses and bacteria for weaponisation live naturally in this region, so this is the place to study them more intensely in their natural habitat.

"This will fill in some dots for you, like the concerns about the bio weapons convention – and working together we might be able to reduce a massive public health risk to Georgia and the region."

Intelligence officer: "OK, perfect. Let me get back with you once I confirm my schedule. Thanks for your messages."
Silverman: "Don't share information about our meeting with anyone, as I have enough problems here already. I can't get my Georgian passport renewed, since technically I am still a US citizen and the US Embassy has had me legally classified as an alien, and a non-national of the US – all part of the plot to get me out of here, which began when I started investigating end user certificates and terrorist training projects."
Subsequently Silverman told this man that he could not make their planned meeting as he would be on the Turkish border monitoring trafficking and goat paths for terrorists for the next two weeks. The intelligence officer, now apparently scared of getting too much information he did not know how to deal with, responded: "… After giving it more thought – I really don't need to meet up with you. I think I can Google most of the information I need anyways. I appreciate your time anyways, and best of luck with all your future endeavors."

Contract with the Devil?

It is known that Turkey has supplied Sarin gas to ISIS. Veterans Today, an online intelligence journal, was the first to break this story in 2013. It traced the gas/components being used back to a US funded facility in Georgia, the very same Lugar lab. VT staffers in Georgia then secured plans for WMD and bio-weapons warfare facilities in other parts of the region, including the Lugar lab, which appears to have a purpose-built room for holding dead bodies.

International journalists have been denied access to the lab and given misleading information about it. They have been given guided tours, but the areas where the real work is carried out are off limits, to both guests and the lab's own Georgian staff.

In 2010 there was a big staff turnover at TMC. All the highly skilled professionals left, to form a new company called Sigma. The key question is, why? Was there something going on in the background in Georgia that left them feeling ethically compromised?

In the 2010 US elections Susana Martinez (R) replaced Bill Richardson (D) as Governor of New Mexico. The new CEO of TMC was an initial contributor to Martinez's campaign, so the company may have changed slightly because of who was in power at Los Alamos and their objectives.

New Mexico is next door to Arizona, home of Senator John McCain, the link man between the arms dealers and the terrorists. McCain is of the same party of Martinez, and made his fortune through organised crime and military contracts and the fusing of the two. He also has longstanding connections with Georgia, exerted through several US Ambassadors, and Saakashvili government members openly canvassed for him online when he stood for president.

Gold-plated translation service

According official documents, TMC was awarded $ 8,801,998 million USD for "Translation Services," between 2012 and 2015, give or take some adjustments in the accounting. It will be necessary to go through these payments line-by-line to see exactly what went where, but one very large payment related to work in Georgia was for 2.4 million USD. The individual procurement records have been zipped, but individual contract files will be shared with the MOD Office of Inspector General in the form of a spreadsheet. There are also related contracts in two other countries, Poland and Germany, and investigative journalists are going through each record of these.

All this raises many questions. Where is all this money going, as translators get paid practically nothing? The author works as a translator on an as-needed basis, and knows the legitimate translation business. The payments made to TMC constitute organised crime, graft. and it is high time to call internal affairs at the Navy. There is some doubt whether they are willing, or even able, to closely examine fraud, waste and abuse in DoD contracting, but failing to do so will simply demonstrate how deep the corruption which the Tbilisi lab is part of has run.

One active translator, working for the Gold Company, wrote when checking out these prices, "Why do you think they cannot spend this amount on translation? Translation fees are high here, too. I do not mean cheap translators charging 5 lari per page. A normal agency would never hire them. I mean professional translators. For instance, simultaneous interpreting costs USD 800 per day, consecutive interpreting – USD 300 per day. There are also separate fees for using simultaneous interpreting equipment. Translation fees are also high – up to USD 12 per word. These are the prices of freelance translators. Companies charge more. It depends on the amount of work they have here. Maybe they have several conferences per day and need many consecutive interpreters?"

The answer to these questions is that TMC's history is already well documented, For instance, TMC has subcontracted out plenty of interesting work over the years. One company it has subcontracted to is Eren Grou, http://www.erenport.com … a Turkish building company who worked on the Lugar lab. As one source described, "You know how things work, they hired locals and had Turkish "masters", and, well, the quality wasn't good. The Lugar lab costs over $12M a year to operate; the Georgian government can't afford that, and the sum can't be identified in the state budget. This cost confirms that it is the US government which is footing the bill for the lab, and therefore this lab is not under the control of the Government of Georgia, as claimed in some media reports.

TMC was brought in to load these jobs with local workers. They made between $1,000-$2,000 a month, each. They were not skilled workers, so were not paid international rates. Although $1,000 a month is good money by Georgian standards, the contractor ends up with more if it can bill Uncle Sam for local help at the going international rate. Alternatively, this mechanism can be used to funnel money into Georgia for various hidden agendas, political or military, terrorist support, and these can extend to regional manoeuvres. This has long been a known practice in Georgia, with USAID and various agricultural development funds having been proved to have been used in this way.

We should all be concerned that TMC has won a new US Government contract to further another US programme. The only change TMC has undergone since it got involved in the Georgian bioweapons programme, with all the criminality that goes with that, is that the last few genuine scientists have left it. If you want to know where this leaves everyone the US comes in contact with, come and stand outside the Richard E. Lugar Center or Bechtel's Office for a few hours, if you are even allowed to do so.

Seth Ferris, investigative journalist and political scientist, expert on Middle Eastern affairs, exclusively for the online magazine "New Eastern Outlook".